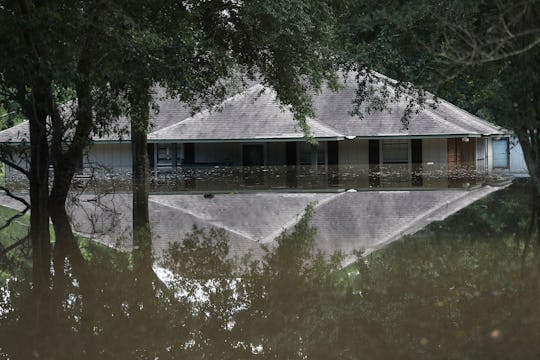 Joe Raedle/Getty Images News/Getty Images
How To Donate To The Louisiana Flood Victims, Because They Need More Support
Louisiana residents continue to battle the effects of recent historic flooding in southeast Louisiana, which tragically took the lives of at least 11 people and damaged some 40,000 homes, NPR reported. It's a devastating natural disaster with relief efforts still ongoing. Many have traveled to the affected areas to volunteer with organizations like the American Red Cross. But for people outside of Louisiana who would like to provide support to the victims of the disaster, there's quite a few online donating options. So, here's how to donate to the Louisiana flood victims. It's certainly a difficult time.
On the Red Cross website, the organization estimates it will reach at least $30 million in costs needed to provide support to flood victims by providing them with a place to stay and with food, among other relief efforts. According to its calculations, 8,400 people sought refuge in Red Cross shelters.
"The current flooding in Louisiana is the worst natural disaster to strike the United States since Superstorm Sandy," said Brad Kieserman, vice president of disaster services operations and logistics for the Red Cross. "The Red Cross is mounting a massive relief operation, which we anticipate will cost at least $30 million and that number may grow as we learn more about the scope and magnitude of the devastation." ‌
The Red Cross is accepting donations through its website, and by telephone and text message. For those who wish to donate, you can visit redcross.org, call 1-800-RED CROSS, or send a text message with the word, " LAFLOODS" to 90999 to automatically make a $10 donation.
Louisiana's own The Times-Picayne or nola.com, gathered a detailed list of other online donation sites. Here are a few resources listed:
Nola Pay it Forward Fund: Helping Families in Neighboring Parishes
An initiative activated by Mayor of New Orleans Mitch Landrieu and the Greater New Orleans Foundation that helps aid the relief and rebuilding efforts. Donations can be made at: www.gnof.org/nolapayitforward/
United Way of Southeast Louisiana
The United Way of Southeast Louisiana is also accepting monetary donations on its website: www.unitedwaysela.org. You can access the direct donation link here.
Baton Rouge Area Foundation
The Baton Rouge Area Foundation has a Louisiana Flood Relief Fund campaign accepting online donations. The campaign set a goal of $500,000. The direct link to more information on the campaign fundraising efforts can be found here.
Louisiana Gov. John Bel Edwards declared a state of emergency for the entire state last Friday. According to the Associated Press, Edwards revealed that more than 10,000 people in Louisiana are in shelters and more than 20,000 have been rescued.
For those looking to donate directly to individuals and families, thousands of Louisiana residents have reportedly created GoFundMe campaigns to raise funds to help with relief efforts after the flood damaged their homes. More than 40,000 homes have been affected by the flood, Edwards said in a press conference, according to ABC News. Louisiana Attorney General Jeff Landry is reportedly teaming up with GoFundMe to ensure GoFundMe funds are going to flood victims and not potential fraud accounts, local Louisiana 9 WAFB reported.
The full list of online donations on nola.com can be found here.