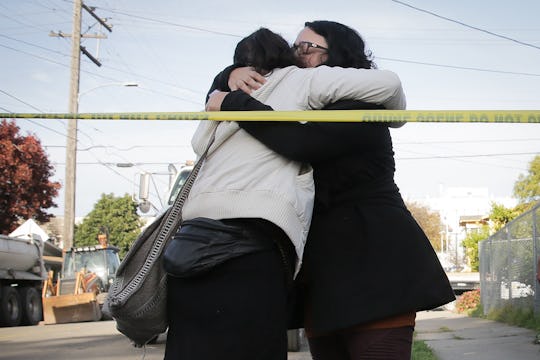 Elijah Nouvelage/Getty Images News/Getty Images
How To Donate To The Oakland Warehouse Fire Victims' Families
As of 6:00 a.m. Monday morning, Oakland, California, authorities have located the bodies of 36 people killed in the Friday night fire that ravaged a 31st Avenue warehouse known as the Oakland Ghost Ship that served as artist collective, makeshift transient residence, and freeform nightclub. Authorities have confirmed that 11 of the 36 bodies have been identified, and their names are slowly being released to the public. There are still many others missing, as well as victims who survived, but with injuries. The Oakland community has rallied after this tragedy, prompting many wondering how to donate to the Oakland warehouse victims' families. There have been a number of fundraisers set up already, and it's important to make note of legitimate efforts to help victims' families as opposed to opportunistic scammers — because sadly, they do exist.
Even though 36 bodies have been recovered, fire officials expect that number to rise as they resume recovery efforts when safe to do so: Ongoing structural issues have made recovery efforts dangerous for rescuers at the Oakland warehouse, prompting a work stoppage with approximately 70 percent of the building searched so far. With so many victims — many of whom were actually living in the Oakland Ghost Ship space — the need for assistance for their families is great. Here are four ways to donate to Oakland warehouse fire victims and their families.
The Oakland Athletics baseball team has an Oakland Fire Relief fundraiser page at YouGiving online, and have so far managed to raise almost all of their $100,000 goal for victims' families. They are also joined by the NFL Oakland Raiders football team who have each pledged to match up to $50,000 of donations made through this fundraiser. Separately, the Golden State Warriors basketball team has donated $50,000 toward Oakland fire victim family assistance.
Given that so much of the two story Oakland Ghost Ship space served the local art and music communities, the Gray Area Foundation for the Arts, a 501(c)(3) non profit, has set up a Fire Relief Fund for Victims of Ghostship Oakland Fire, also on YouGiving. While the fundraiser online has exceeded its $250,000 goal, it is still accepting donations online.
Reina Lam, an Oakland film producer and experimental musician, has organized a fundraiser specifically for those victims who were residents of the Oakland Satya Yuga, the collective of artists that managed many of the living/work spaces in the Ghost Ship. In her Oakland warehouse GoFundMe for residents, Lam noted, "The collective loss of life, shelter, and livelihood is unimaginable." The goal is to raise funds to provide food, lodging, and replace belongings lost in the fire.
There will be two benefit concerts for Oakland fire victims on Wednesday at 7:00 p.m. and 9:00 p.m. local time at Midsummer Studios in Emeryville, California. Music will be performed by Kimya Dawson, and two films from Torrey Pines and Johnny Physical will also be screened. While event organizers have not named a specific fund to which monies will be donated, all proceeds will go to the Oakland warehouse fire victims. The entry fee is $10; full details on Facebook.
No matter where you are, there are plenty of ways to help make a difference for the Oakland warehouse fire victims and their families.