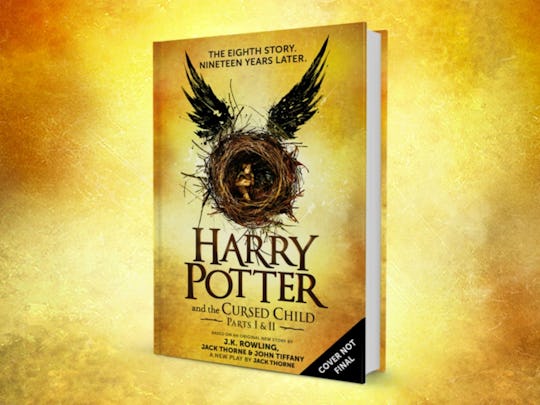 How To Download 'Harry Potter & The Cursed Child' & Read It Right At Midnight
The wait is coming to a close for Harry Potter fans. No, I'm not talking about the premiere of Fantastic Beasts and Where To Find Them, though I've cleared myself of all obligations on that day. I'm talking about the release of Harry Potter & The Cursed Child, a two-part play based on the seven-book series that captivated the world. And the most important quesiton on fans' minds (other than what character to dress up as for the release part) is how to download Harry Potter & The Cursed Child so they can read it as soon as it's released.
OK, let's be honest. Any real Harry Potter fan will want to have an actual, physical copy of unofficial eight book in their possession. I mean, think of how ridiculous your bookshelf will look without it. But if you want to buy a copy of Harry Potter & The Cursed Child, you'll have to wait a few days for the mailman to bring that coveted copy to your door. (Or, if you're really lucky, a trained owl will bring the book along with your awaited Hogwarts acceptance letter.) And despite J.K. Rowling's plea with fans not to spoil the story line of Harry Potter & The Cursed Child, it's going to be difficult for fans to keep quiet on social media. Especially if they're a Slytherin.
So how do you get your hands on a copy of Harry Potter & The Cursed Child before spoilers hit the airwaves? Simple — you download it. Amazon has made the digital version of Harry Potter & The Cursed Child ($15) available for pre-order, and Barnes and Noble has made a NookBook version of the eight Harry Potter book ($15) available for pre-sale as well. If these companies aren't your cup of tea, you can also purchase th ebook on iBooks, Google, and Kobo, according to Pottermore.
But don't think ordering the digital version means you'll be getting earlier than the folks lining up at the store. According to Pottermore, all editions of Harry Potter and the Cursed Child, both digital and print, will publish at 12:01 a.m. BST on July 31. This means you can spend Harry Potter's birthday learning all about Albus Severus Potter and Co.
Once you place your order, make sure to pray to the internet gods that nothing happens on July 31 to keep you from your favorite series.