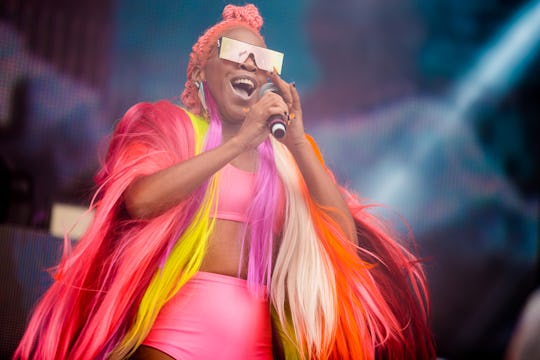 Mauricio Santana/Getty Images Entertainment/Getty Images
How To Download Karol Conka's Music, Because She Killed It At The Rio Opening Ceremony
One of the best parts of the Rio Opening Ceremony was the amazing music. Whether or not you could fully understand the lyrics, the beats were catchy enough to make anyone want to dance. Specifically, Brazilian rapper, Karol Conka, caught a lot of people's attention and now many are wondering where they can download Karol Conka's music. Thankfully, it's pretty easy to get ahold of Conka's music.
You can find all of Karol Conka's albums on iTunes and Amazon Music. Karol's first self-titled album came out way back in 2001, but she came out with her sophomore album, Batuk Freak, in 2014. At only 29, Conka is one of Brazil's most prominent female rappers with her own special sound that's a blend of pop, R&B, and Brazilian. Known for her popping pink hair, Conka has an amazing stage presence that draws you in, whether you know what she's saying or not.
Besides her songs just being catchy, Conka's music also has a message. Last year during an interview with Refinery29, Karol discussed how she faced discrimination as a black woman who lived in the ghetto and how her music deals a lot with self-esteem.
"I talk about self-esteem a lot in my lyrics but just not in a typical way," she told Refinery29. "A big illness in women and people in general is self-esteem. It's a lack of loving oneself. I've been through some low self-esteem myself. So, I was determined to help others through my music."
If you don't speak Portuguese, you should really get a translation of her songs so you can not only enjoy their fun sound, but also the meaning behind her words. Conka's music is not only meant to be enjoyed, but also to empower people and help them believe in themselves.
With a such strong message, it's no surprise that Conka was selected to perform at the opening ceremony on Friday. With inspiring words and music that made everyone in the audience want to dance, Conka was the perfect choice for the ceremony.