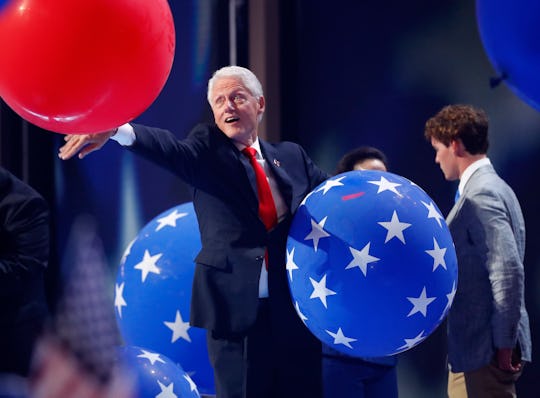 Aaron P. Bernstein/Getty Images News/Getty Images
How To Dress Like Bill Clinton Playing With Balloons At The DNC, Because It Was Magical
Regardless of how you feel about him politically, Bill Clinton has always had a child-like sparkle in his eye. It was most evident this past summer at the close of the Democratic National Convention. The moment those red, white, and blue balloons dropped from the ceiling of the Wells Fargo Center, all eyes were off presidential nominee Hilary Clinton and were on her husband, who suddenly looked like a carefree little boy. If you want to recreate this magical experience, you should learn how to dress like Bill Clinton playing with balloons at the DNC this Halloween.
According to Wired, approximately 100,000 balloons were inflated by several professional balloon companies who worked a 12-hour day to prepare the venue for this spectacular event. There were 60 nets above the convention holding balloons as big as 36 inches in diameter, which was a first for any convention. Lehigh Valley Business noted that Treb Heining of Glasshouse Balloon Co. in California was in charge of the balloon drop at the DNC, as well as the balloon drop at the Republican National Convention earlier in the summer. Apparently, President Clinton is a fan of Heining's work.
Here's how you can be as happy as Bill Clinton playing with balloons this Halloween.