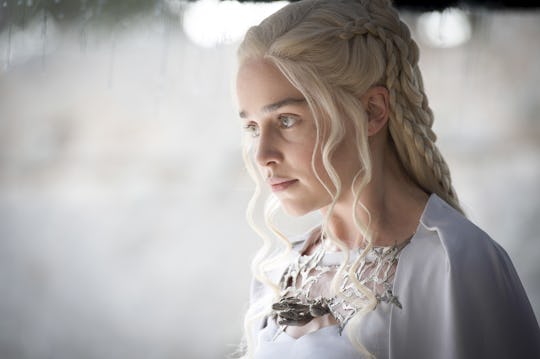 Macall B. Polay/Courtesy of HBO
How To Dress Like Daenerys For Halloween & Slay The Costume Contest
Game of Thrones was one of the most popular TV shows in the universe, not only because of the drama, the intrigue, and the larger-than-life plot, but for the characters that fans come to know and love season after season. Of course, the incredible costumes are an important part of what makes each character unique, and if you're planning on dressing and playing the role of a GoT character this year, you're probably trying in the midst of researching how to dress like Daenerys for Halloween. Daenerys, the Mother of Dragons, is one of the most loved characters of the show and, and no one's got a signature look quite like her.
Also known as Khaleesi, Emilia Clarke's character, Daenerys, is known for her platinum blond hair, gorgeous, elaborate dresses, and of course, her constant companions, the dragons. Although dressing as the mother of dragons, can be an intimidating thought, with a little bit of research and DIY magic, you can create a Daenerys costume that rivals the "real thing" and will most certainly help you slay Halloween this year.
Some of these costumes can be as simple as buying the dress and wig online and watching a make up tutorial to get Dany's classic "power brows." Other costumes will require a little bit of DIY-ing and mixing and matching to pull off. But whether you're striving to be as budget-friendly as possible or are willing to shell out some serious cash to have the best look, once you're armed with these costume ideas (and the confidence of Daenerys Targaryen), you won't regret dressing as this fan favorite for Halloween.
We only include products that have been independently selected by Romper's editorial team. However, we may receive a portion of sales if you purchase a product through a link in this article.