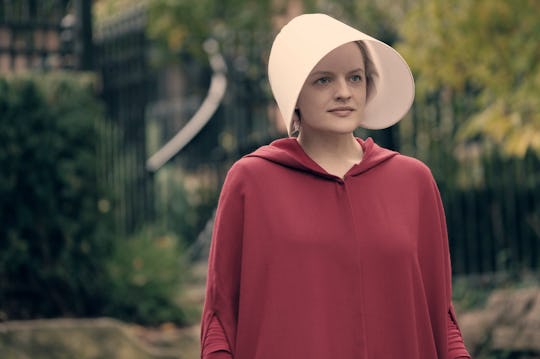 George Kraychyk/Hulu
How To Dress Like The Women From 'Handmaid's Tale'
Women (and some men) everywhere have been talking about Hulu's impactful new series The Handmaid's Tale, and if you haven't seen it, you should definitely get on board. Based on the timeless Margaret Atwood novel by the same name, the series displays a future where women are treated poorly and are banned from abortion. If the story sounds way too relevant for you to even stomach, then you won't be surprised to find out that women are now searching for information on how to dress like the women from Handmaid's Tale, particularly for protesting purposes.
A few weeks ago, Texas Senate passed Senate Bill 415, which would ban a safe procedure done for a second trimester abortion. According to Slate, a group of women activists in Texas showed their distaste for the bill by showing up to chambers donning red robes and white bonnets — an obvious ode to the characters in The Handmaid's Tale. Since the election of Trump, Slate noted that sales for the 1985 novel have increased tremendously and now with Hulu's highly publicized small screen adaptation, women everywhere are ready to fight back. Though this is not the first example of women using clothing to send a steady message to legislation, it is one that more women should consider being apart of.
If you're ready to join the peaceful protests and stand in solidarity similarly to the women in Texas, here are a few ways you can replicate the look from Handmaid's Tale.