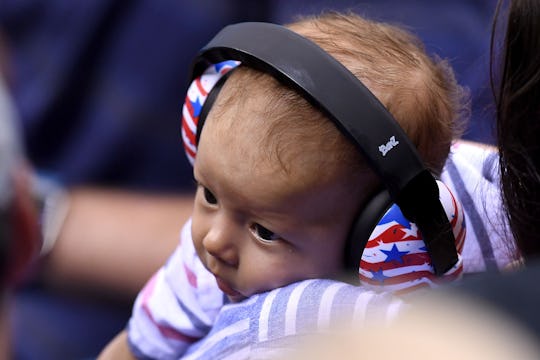 David Ramos/Getty Images Sport/Getty Images
How To Dress Your Baby Like Boomer Phelps For Halloween For A Gold Medal Costume
This summer, people around the world tuned into the 2016 Olympic Games in Rio and caught a glimpse of one of the cutest faces in Brazil — Boomer Phelps. The now 5-month-old son of the most decorated Olympian of all time Michael Phelps and his fianceé Nicole Johnson, quickly became an online sensation. If you're as addicted to his Instagram account as his more than 747,000 followers are, you may be wondering how to dress your baby like Boomer Phelps for Halloween.
Boomer and his parents have been making the rounds since the Summer Olympics. He's chilled with surfer Kelly Slater, he's gotten to hang out at studio 6B at The Tonight Show with Jimmy Fallon, he visited Simon Cowell on the set of America's Got Talent, and met Ray Lewis at the Baltimore Ravens vs. Washington Redskins game. He was even gifted a mini Olympic Games-style kiddie pool emblazoned with the year 2032 (the year Boomer turns 16) by Ellen DeGeneres. Something tells me this little guy is well on his way to being as famous as his dear old Dad.
You know you love him, too, so here is a step by step guide to recreating the Boomer Phelps look on your baby this Halloween.