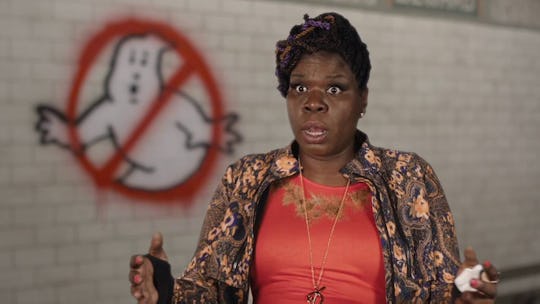 Columbia Pictures
How To Dress Your Kid Like Leslie Jones' Patty Tolan In 'Ghostbusters'
Ghosts and Halloween are kind of like peanut butter and jelly — you really can't have one without the other. And with the popularity of the recent remake of the classic '80s film Ghostbusters, there will be plenty of kids and adults alike who will be hitting the streets in their brown jumpsuits and backpacks in search of ghosts and gobblins this Halloween. Whether you're a fan of the original or the all-female reboot, you may be wondering how to dress your kid like Leslie Jones' Patty Tolan in Ghostbusters.
One-fourth of the film's ghost busting girl group, Patty Tolan is a street-smart, straight-talking lady who knows more about New York City than the average person. Whether she's ridding the city of ghosts, or maintaining order in the subway as an employee of New York City's Metropolitan Transit Authority, Patty isn't afraid to jump in and do her part to help out the rest of the team.
If you ain't afraid of no ghost, don't be afraid to let your kid dress in one of these looks that Patty wears in the film. And if you do, don't be surprised if you get called in for duty on Halloween night.