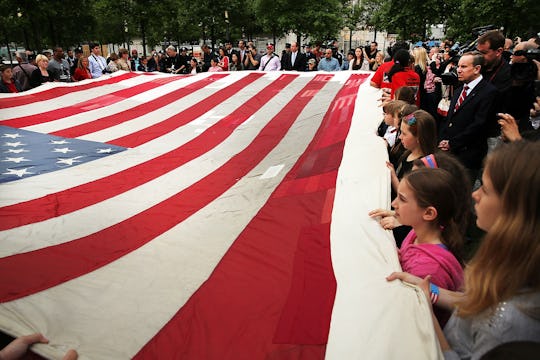 Spencer Platt/Getty Images News/Getty Images
How To Explain 9/11 To A Child Who Wasn't Alive At The Time
If you were alive during the terrorist attacks on Sept. 11, 2001, there's no doubt you remember everything about that day. From the cloudless blue sky, to the chaos that erupted on sidewalks across the country, to the phone lines being so busy that you couldn't reach your loved ones, the events of that day are cemented in our collective consciousness. But what about the generation of Americans who weren't born yet? As parents, teachers, mentors, and anyone who is close to children, it's important to learn how to explain 9/11 to a child who wasn't alive at the time.
With the 15th anniversary of Sept. 11 coming up, now is the perfect time to talk to your kids about what happened that day, and how the attacks changed the world for everyone. Time suggested you set aside some time when you won't be interrupted and when you're confident enough to be direct and honest, without being graphic.
No matter how you've healed in the years since the attacks, you know in your gut that this is something you need to speak to your children about. But it's perfectly OK to have trepidations about what to say, or how to say it. The following are suggestions on how to explain 9/11 to young people, because it is still a tender topic for many people.