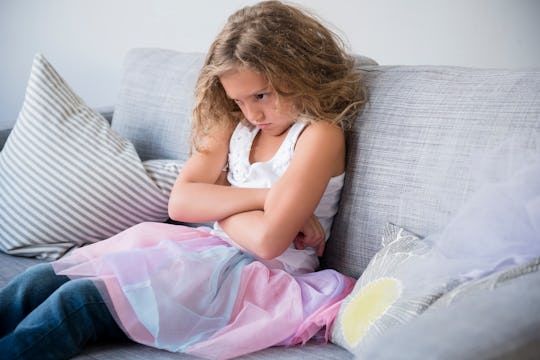 JGI/Jamie Grill/Tetra images/Getty Images
These 10 Tips Will Help You Explain Why Everything Is Canceled To Your Kids
As COVID-19 continues to spread and more and more events get cancelled, your little one might start asking some tough questions. Explaining canceled activities to kids during this pandemic is touchy, and something most parents weren't prepared to do. It can be done, though; you just need to do it with a little grace, empathy, and patience.
Since COVID-19 is brand new, navigating the virus and how it's changing daily life is uncharted territory for everyone. Licensed professional counselor Lacey Fisher, LPC-S, RPT-S, tells Romper one of the first (and best) things parents can do is to "learn what [they] can about the virus from reputable sources so [they] can give [their kids] the most accurate and beneficial information" that's available. Once you're equipped with good info and are ready to explain the reasoning behind schedule changes and cancellations to your child, Stacy Baugh, LCSW, recommends sharing it in a constructive way. "Younger children will look to their parents to feel safe and secure," she says, so it's important to provide assurance that everything will be okay.
Even though it's a heavy topic to explain, psychologist Kristen Wynns, Ph.D., encourages parents to see the bright side of things. "Although it's stressful for adults to have cancellations and worry about the unknown, take advantage of the extra time at home to develop new family rituals, play games, or find other unique ways to get that desired quality time with your loved ones," she tells Romper. Still, in order to fully enjoy this new way of life, you have to first explain to your little why regular activities have been canceled. Here are 10 tips on how to do it in a caring and effective way.