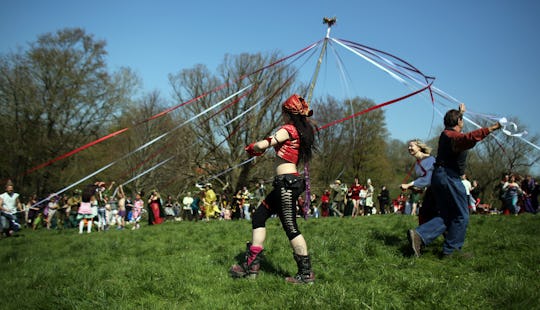 Matt Cardy/Getty Images News/Getty Images
How To Explain May Day To Your Kids, As Simply As Possible
It is officially May 1 — which means it is officially shorts season, schools are preparing to let out for the summer and flowers are starting to bloom. May 1, however, also marks the holiday that millions every year choose to participate in: May Day. Although celebrated all around the world, May Day tends to get overlooked. So how do you explain May Day to your kids? It's a very important holiday that shouldn't be ignored.
First off, what exactly is May Day? May Day is a holiday typically celebrated in the northern hemisphere that dates back to Pagan times. For some, it is a celebration of the season. However, many cultures have adopted the holiday and made it into their own, over time incorporating new traditions and reasons for celebrating. Most recognizably associated with May Day is the May Pole — which, according to some, represents the earth's axis or um, a phallic symbol associated with fertility. Ribbons are wrapped around a tall pole, around which people dance, holding on to the ribbons. Flowers are also associated with May Day celebrations as well as Morris Dancing, where men dress in white outfits with colorful sashes and dance to lively, traditional music. A very fun way to celebrate.
May Day, however, also marks International Workers Day, which is similar to Labor Day here in the United States. Trade Unions and other groups often hold demonstrations and commemorations for the working class.
International Workers Day got its start in Chicago in the 1880's where labor movements around the world were fighting for fair wages and work accommodations. While the United States doesn't celebrate it, pretty much every other country does, where the fight for worker's rights is still a reality.
So how do you explain May Day to your kids? Start by highlighting the importance of life — combining the traditional reasons for celebrating but also the importance of International Worker's Day. While wages and working conditions might not be something they can really understand, they can understand the importance of the simple things that International Worker's Day boils down to, like sharing and equality.
Let them know that May marks the blooming of flowers and the arrival of a new season — which is a reason to celebrate. So sharing a dance with your children or picking flowers (or dandelions) from your garden and sharing with a friend, is also a way of explaining the importance of celebrating the birth of a new season but also the importance of sharing and equality.
While explaining demonstrations and impassioned protests associated with May Day might have to be reserved for when they are a lot older, May Day can be used to teach kids a whole trove of important life lessons — and yet another reason to celebrate.