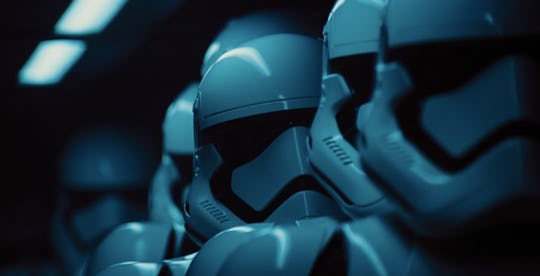 How To Filter Your Facebook Photo For 'Star Wars: The Force Awakens'
The day is almost here. It's almost time for Star Wars: The Force Awakens to touch down in theaters across the country, and now you can filter your Facebook profile picture for Star Wars: The Force Awakens like a true Jedi. The film, which is due out in theaters across the U.S. on December 17 is every Han Salo, Darth Vader, and Princess Leia fans dream come true — not only can you channel the force, but now you can have the force. Seriously, is nothing better than this?
Facebook has recently allowed its users to change their profile pictures in support of events — the Supreme Court's passage of gay marriage, the French flag filter in the aftermath of the Paris attacks — and today we have yet another reason to filter our Facebook photos in support of the film. Though it's incredibly important to show our international support and worldwide solidarity in times of incredible sadness and heartbreak, I'd argue it's a welcome reprieve from all the terrible stuff going on in the world to have a moment to celebrate and mark the arrival of something totally wanted and beloved: a movie franchise that's made millions of memories for millions of people, sparked discussion, changed the film industry, and welcomes new legions of fans every single day. I'm not even a diehard fan, and I'm totally into it.
Want to know how to filter your photo?
First, Follow This Link
If the link doesn't appear, scroll through your News Feed and find a friend who's recently changed their photo (trust me, there are probably tons!). You'll see the above option appear underneath their photo. Click "Try it" and follow the next steps.
Then You've Got Two Options To Customize
Not one for a blue saber? Then try the red one:
You can drag your original photo forward if you'd like to make it bigger, and then hit "Use as Profile Picture" to ensure that all your friends can see. Facebook even gives you an option to choose how long you'd like that to be your profile picture, or you can opt to keep the photo as long as you'd like.
Here's My Profile Picture From Before:
So boring. So simple. So ... Earthly.
And Here's My Picture After (Using Both Filters!):
And, not to forget the red:
Images: Star Wars, Facebook (6)