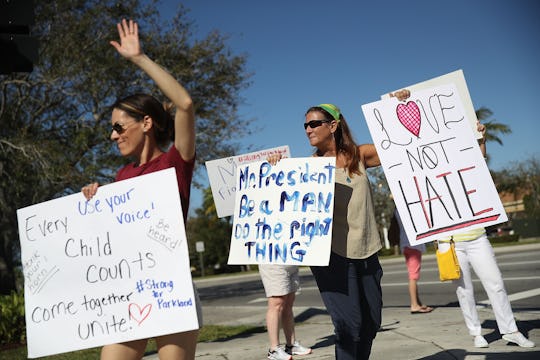 Joe Raedle/Getty Images News/Getty Images
Here's How To Find A March For Our Lives Demonstration Happening Near You
After the horrific school shooting in Parkland, Florida, last week, students have banded together to organize a nationwide march to protest gun laws in the United States. While the central demonstration will take place in Washington, D.C. on March 24, you can easily find a March For Our Lives demonstration near you, because these teenagers know what they're doing and are determined to reach as many people as possible. Fortunately, much like the Women's March, the March For Our Lives will have dozens of sister marches happening across the United States.
These upcoming marches are sadly necessary; it's barely March and there have been 48 mass shootings this year in the United States to date, according to MassShootingTracker.org. The most recent mass shooting in Florida left 17 people dead after a gunman entered Stoneman Douglas High School on Feb. 14. And just days after this tragedy changed these students' lives forever, they came together to organize The March For Our Lives events that'll hopefully push lawmakers to make lasting changes and take action to prevent further tragedies happening.
It's a mission countless people are behind and by creating an interactive website, the March For Our Lives organizers — including survivors Cameron Kasky and Emma González — have made it very easy to find a demonstration happening near you, something that is desperately needed at a time when false information spreads so easily. The first step to finding a March For Our Lives sister march near you is to go to the event's official website and enter your location — either with your zip code or city — and you can see what's been planned closest to you.
The March For Our Lives was organized mere days after the shooting on Feb. 20, which speaks to how dedicated these students are to its mission, which reads:
Not one more. We cannot allow one more child to be shot at school. We cannot allow one more teacher to make a choice to jump in front of a firing assault rifle to save the lives of students. We cannot allow one more family to wait for a call or text that never comes. Our schools are unsafe. Our children and teachers are dying. We must make it our top priority to save these lives.
Indeed, the organizers behind the March For Our Lives demonstration have one important mission: to strengthen gun laws in the United States so that maybe, just maybe, not one more innocent life will be taken as the result of a mass shooting.
Fortunately, it's very easy for people to get involved at a local level. The official March For Our Lives website is incredibly well designed and if you want to find a local march, simply go to the website (which you can do right here), and navigate the top menu choices to click on the "March With Us" option. Once you do that, you'll be taken to a page with an interactive map and form to fill out with your location to find the closest march to you.
From there, you can RSVP to whichever event you want to go to, which will help event organizers know how many people they can expect for planning and security purposes. Now, if you go online and don't find any events near you, don't worry; simply try Google and type in your city (or the city closest to you) and "March For Our Lives." You might be able to learn about a local event happening through your local paper that it isn't yet registered on the official March For Our Lives website.
Of course, there's a chance there isn't an event happening near you, in which case you could always try to organize your own. The March For Our Lives website does a good job in that arena as well, allowing users to fill out a form to register their own event in their own city.