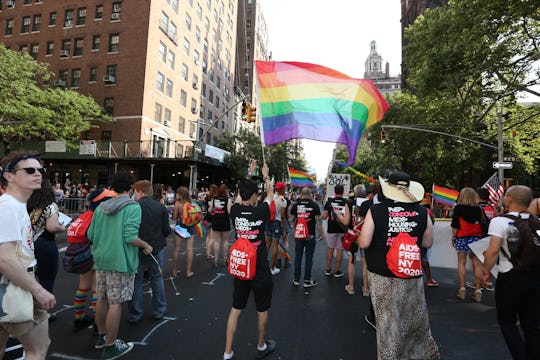 Rob Kim/Getty Images Entertainment/Getty Images
How To Find A Pride Parade In Your Area
Everyone has causes they are passionate about, but when it comes to representing them in real, tangible ways, it often feels like it's easier said than done. Celebrating equality can take on many forms, but in recent years, parades and protests have gathered the majority of the attention from supporters. If you're wondering how to find a Pride parade in your area, chances are there is one not too far away.
Aside from looking for rainbow colored everything and a giant gathering of people, the internet is filled with resources from your city and LGBTQ organizations that can help you find a Pride parade for 2017. Word of mouth is also a good way to find an event supporting the LGBTQ community.
In most major cities, there will be no shortage of Pride parades and other inclusive events promoting equality for all, but if a simple Google search isn't yielding the results you hoped for, there are other options available for finding an event that is nearby (or at least within traveling distance.) Whether you live in the nation's capitol or a rural town in "the middle of nowhere," with these tools up your sleeve you'll be able to find an event that fits your schedule and location and, most importantly, your values.