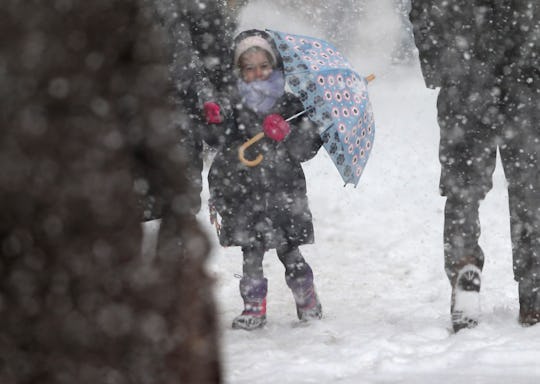 John Moore/Getty Images News/Getty Images
How To Find Daycare Closures Ahead Of The Blizzard
A ferocious blizzard is expected to bury much of the tri-state area — from Washington, D.C., to New York City, and Boston — with as much as two feet of snow starting early Tuesday morning. With crippling snow accumulation and powerful winds in the forecast, a state of emergency may go into effect on Monday evening and many schools have already cancelled classes in anticipation of the big winter storm, also known as a nor'easter. If you're wondering whether your little one will also have a snow day, here's how to find daycare closure listings to help you prepare for Winter Storm Stella.
The easiest and simplest way to get an answer is to call your daycare directly or check its website for an announcement. If you haven't received an email yet or the phone lines appear to be backed up with other concerned parents looking for information, there are a few more options to explore before the blizzard hits.
Keep in mind that Mayor Bill de Blasio announced that all New York City public schools will be closed on Tuesday, so it's a safe bet that most daycares will follow suit. However, if your child's school district or daycare hasn't made an official announcement yet, many news outlets are updating their lists of school and daycare closures as they gather more information.
For example, check here for southeastern Pennsylvania and western New Jersey closures; here, for listings of closures in Connecticut; here for Washington D.C. closures; here for Boston area closures; and here for Baltimore closure listings.
Additionally, many daycare centers are steadily announcing their closures on Twitter. For example, Rockland Daycare just north of New York City announced in a tweet on Monday afternoon that it will be closed. To see if your daycare has made an announcement this way, simply search its name on the social media site.
According to AccuWeather, the major storm could affect at least eight states with blizzard conditions as it makes its way out of the Midwest on Monday night, ranging from heavy snowfall, harsh and strong winds, and hazardous travel conditions (at least 4,000 flights have already been cancelled ahead of the storm).
"This should be a very serious blizzard, one that everyone should take very seriously," Mayor de Blasio said on Monday, according to CNN.
Although it's just one week before the official start of spring, this blizzard may be one of the biggest that we've seen in years to undergo "bombogenesis" — a real, admittedly ominous weather term meteorologists use to describe intensifying storm conditions, which happens when there is a large temperature gradient.
Tuesday is also looking pretty brutal for much for the Northeast, so while more announcements come in and the snow begins to fall, make sure you and your home are ready to brave the storm. That means stocking up on plenty of snacks and baby supplies (diapers, formula, if you need it, and any medications your kids may need), replacing your flashlight's batteries or buying a few more candles, charging all of your electronics, and, finally, busting out the blankets — because it's going to be a cold one.
And if you'd prefer not to wait til the a.m. to learn whether your toddler's daycare has closed? Give them a call now and let them know you'll be keeping them home, just in case, for safety reasons — they'll thank you for it later.