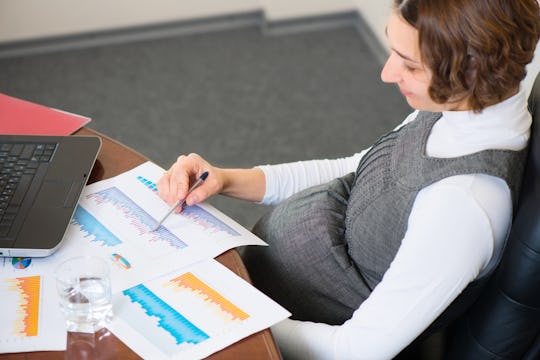 spass/Fotolia
How To Find Good Maternity Clothes For Work, Since Sweats Aren't Always Appropriate
Whether you're a fashionista or not, one of the first thoughts you may have upon seeing that little blue line is "what am I going to wear." And the concern only increases if also happen to be a working woman. Knowing how to find good maternity clothes for work is a struggle more and more women have been facing over the years. And not just because Human Resources implements a strict dress code. According to a 2015 report from the Pew Research Center, the number of working pregnant woman has increased over the years, going for 40 percent in the 1960s to almost 70 percent in the late 2000s.
Luckily for working women of today, maternity work clothes aren't as boring as they were back in the day. Robin Otto, a maternity fashion expert for online retailer zulily, tells Romper that she has seen a shift in the maternity styles over the years and it's all thanks to the moms-to-be.
"Moms started to actually speak up," she says. "They want to see clothes that they actually want to wear." As a result, Otto says brands started asking, "how do I take some of the best sellers that women love and then make them for maternity." Of course, that's not to say things are perfect. The options are still limited, especially for plus size pregnant women, and the bigger brands tend to sell out of items very quickly. That's where, Otto says, a site like zulily comes into play.
In addition to featuring the big name brands, Ottos says zulily features "boutique brands that are difficult to learn and know about. We have the luxury of being able to feature any and everything and I think that's what our moms love about it." But even with the growing number of options out there for working moms-to-be, Otto knows that finding comfortable, flattering, and fashionable options are not always easy. To help you maintain your office style throughout the next nine months, here are some of Otto's tips to building a good maternity wardrobe for work.