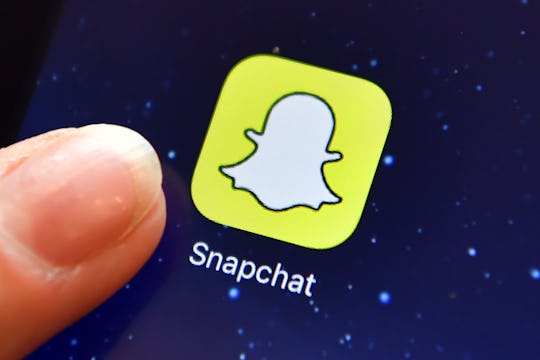 Carl Court/Getty Images News/Getty Images
How To Find Your Friends On Snapchat's Snap Map
Snapchat introduced a new feature earlier this week that has plenty of people talking. The new feature is called Snap Map and it allows users to track their friends on an interactive map using Bitmoji. While some of the buzz surrounding Snap Map so far has been about the possible privacy concerns that come with it, for those who choose to safely opt-in on the new feature, it's actually pretty easy to figure out how to find your friends on Snap Map.
Snap Map's location services are so accurate that users can see exactly what house a fellow user is in. (If you are concerned about the Snap Map feature, especially if your children are also on Snapchat, there's some good news: it's an opt-in feature, so it won't activate without consent.)
If you want to check out where your friends are hanging out, open up your Snapchat app and go to the main camera view. It doesn't matter if it's on selfie mode or not, use your fingers to pinch in on the screen. The interface for Snap Map will appear and you can choose to opt-in on the feature. If you do, you will be taken to an interactive map that shows your friends' bitmoji alter egos on the map. Your friends' avatars are placed over their exact location.
Snapchat also lets you personalize how you use Snap Map, as well. If you want to use the innovative new feature, but are concerned about your privacy, there are different ways you can conceal your location. Users can select "ghost mode," which completely hides your location while still allowing you to see where your friends are. You can also hand pick a small group of your friends to see your location on their own Snap Maps. If you trust every person on your Snapchat friends list, though, you can simply choose to let them all see your location.
While checking out your friends location is pretty cool, there's actually an even more interesting aspect to Snap Map. New York Magazine points out that where Snap Map "really, shines ... is in its other, less publicized form: the heat map, which shows you places in the world where people are snapping - and lets you click through to see." This allows users to possibly discover new and exciting places to explore while they're traveling, or even in their own neighborhoods.
There's definitely merit to the concerns that Snap Map is unsafe, however, there are ways to use the new Snapchat feature responsibly. If you take the proper precautions, Snap Map can be a really fun, new way to interact with your friends on social media.