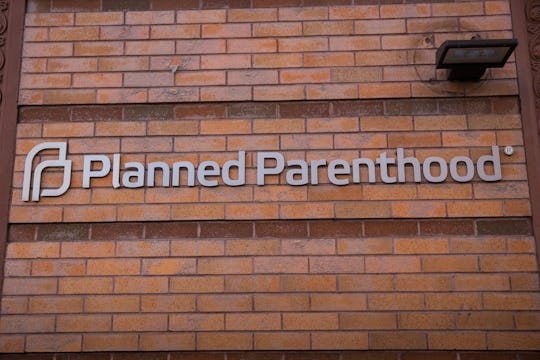 Andrew Burton/Getty Images News/Getty Images
How To Find Your Local Planned Parenthood, Because Smaller Chapters Need Your Support
There's no doubt that President-elect Donald Trump's win has left many Americans worried about their safety, their families, and their futures. One big issue that's now been called into question? Women's access to healthcare, contraception, and abortion. Trump has already said that he is anti-abortion and open to Roe v. Wade being overturned — something that is much more likely now that he's won — and, as a result, Americans have been flooding Planned Parenthood with donations, according to The Huffington Post. Want to donate but not sure how to find your local Planned Parenthood chapter (or why you should)? While most contributions are split between the national organization and local affiliates, donors also have the option to send all of their funds to their local chapters, where chances are good it's very much needed.
Although Trump himself has remained somewhat vague about his actual plans regarding Planned Parenthood, the fact that he intends to potentially repeal Obamacare and to appoint an anti-abortion judge to the Supreme Court of the United States suggests that, under a Trump administration, reproductive rights will once again come under attack. But it's not just about abortions: according to The Huffington Post, as many as 55 million American women could lose the ability to access no-copay "birth control, screenings for sexually transmitted infections, Pap tests and cancer screenings." As a result, Planned Parenthood hasn't only seen an increase in donations, it has also received an increase in appointment requests for long-term and permanent birth control options, like IUDs and sterilization, according to Reuters.
The easiest way to make a donation to your local Planned Parenthood chapter is to choose the "specific giving" option on the Planned Parenthood donation page. There, you will find a drop-down menu of all the local chapters throughout the country, divided by state, and you can pick the one you'd like to donate to. Not sure which chapter is closest to you? You can search the organization's website to find a list of Planned Parenthood health centers by state, along with each center's address and phone information, a list of services provided, and a link to the local chapter that operates it. 100 percent of the funds will be directed to the local chapter when you donate that way, and all donations are fully tax-deductible.
If you feel so inclined, Planned Parenthood also allows you to make a donation on behalf of somebody else — a friend or loved one, maybe. But according to The Independent, a number of donors have taken to dedicating their donations to Vice President-elect Mike Pence, to send him a (literal) message about reproductive rights: when donors include Pence's name and office address along with their donation, a thank you card will be sent to him. And given his political record, that's definitely not something he'd be happy about. An evangelical Christian and staunch anti-abortion advocate, Pence has attempted to block government funding for Planned Parenthood and has passed laws in Indiana that make abortion services more difficult to access. But that's not all. In March, Pence signed a bill that would have forced women to pay a funeral home to bury or cremate any miscarried or aborted fetal tissue, regardless of how far along she was at the time, according to Vox (it was, thankfully, blocked by a federal judge).
In a show of solidarity, singer (and Clinton supporter) Katy Perry lent her support to Planned Parenthood by making a recent donation of $10,000, according to Us Weekly. In an Instagram post, Perry wrote,
I am grateful for and stand in support of Planned Parenthood for giving Katheryn Hudson the knowledge to plan, and for continuing to be a haven for women to learn all options for their future. Now, more than ever, we all need to protect and create safe places for each other. I hope I can help inspire you to make a gift as well, and become a member and an ally.
No word, unfortunately, on whether she did so in Pence's name.