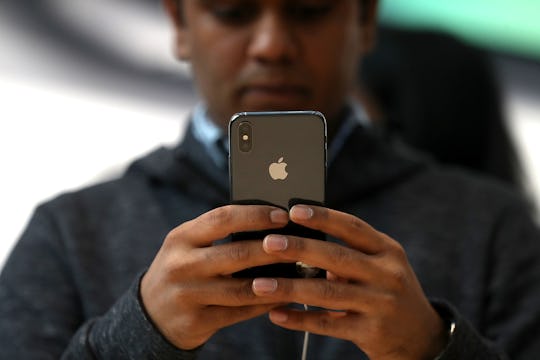 Justin Sullivan/Getty Images News/Getty Images
Here's How To Fix Your iMessages If They're Out Of Order
iPhone users are in a tizzy over a bug that's affecting how their iMessages are being displayed — and they're flooding Reddit and Apple help forums trying to figure out what the heck is going on. Apparently, after a recent iOS update, a fair amount of phones are displaying iMessages out of order. This is not only confusing for people as they look back on a conversation, it's also extremely frustrating. (Especially for those who might have received a brand new iPhone as a gift over the holidays. Hang in there, guys; we promise it's not always this confusing.) But never fear! Here's how to fix your iMessages if they're out of order.
One Apple help discussion thread highlighted the current issue perfectly. The original poster of the question wrote, "Ever since I updated to iOS 11.2.1 my messages do not show in [the] correct order. I've tried restart, manually setting time, and 24hr time. Nothing seems to fix this issue. [It's] driving me nuts constantly missing text[s] because overlooking. They are showing as if they were received before other messages. [Come on] Apple your[sic] killing me how can I keep speaking so highly of you when lately you've been letting me down." Another person chimed in with, "Same exact thing is happening to me. Completely missing responses and thinking I didn't receive one. Have you found a work around/solution?"
A quick search on Twitter reveals similar issues by plenty of other iPhone owners, according to Piunikaweb.com. Many of these tweets have Apple and/or Apple Support tagged in them — and yet, it seems as if Apple hasn't released any statements (or general fixes) concerning the issue at hand.
Piunikaweb.com reported the bug originally appeared after the arrival of iOS 11.2, which was rolled out at the beginning of December. Evidently, the issue still wasn't fixed by the time the 11.2.1 update came around. Thankfully, there is ray of hope. That's because there seems to be a few different methods for fixing the issue — and it doesn't seem too complicated. One of the first things iPhone users can try is restarting their device. "This usually fixes the problem temporarily, but don't be surprised if your iMessages begin to appear out of order again," Payetteforward.com reported.
For those who are still new to this whole iPhone business, here's how to restart your device: If you have an iPhone 8 or earlier, press and hold the power button until "slide to power off" appears. Swipe the power icon from left to right to shut down the iPhone. After waiting a few second, press and hold the power button again. (You can let go when the Apple logo pops up on your screen.) For an iPhone X, press and hold the side button and either of the volume buttons until the power slider pops up on the display. Swipe left to right to turn off the device. After waiting about 15 seconds, press and hold the side button again until your phone turns back on.
Something else you can try, according to Payetteforward.com, is turning iMessage off and then back on again. Do do this, open up the "settings" app and tap "messages." Next, tap the switch next to iMessage, located at the top of your screen. Now, before you turn iMessage on again, go ahead and restart your iPhone. Then go back into settings and turn iMessage.
Payetteforward.com also points out that iPhone users should be on the lookout for a potential software update to fix the problem. To check if Apple has released an update, open up the settings app, tap "general" and then tap "software update." If there's an update currently available, tap "download and install under the update's description.
Here's one I wouldn't recommend trying right off the bat because it seems like a huge hassle: Reset all settings. (Still, if the out-of-order iMessages are truly bothering you, this trick has reportedly worked for most people.) When you reset all of the settings on an iPhone, all of your settings will be restored to the factory defaults — meaning you'll have to manually re-enter wifi passwords, set up Apple Pay credit cards and all that jazz. In order to reset all settings, open the settings app, tap "general," "reset," and then "reset all settings." After you enter your iPhone passcode, restrictions passcode and then tap "reset all settings," your device will the restart. Viola!
Or, you could always resort this method ...
(But somehow, I don't think it would have the desired results.)
So far, I haven't noticed this bug on my iPhone. Then again, I don't text all that much. The only people from which I regularly receive texts are my husband, who is still home over his holiday break from work, and my best friend, who is as busy as I've been lately. (And as long as the email, Facebook, and camera app are in working order, I'm good to go.) But still. In the meantime, let's hope Apple releases an iOS update that fixes this annoying iMessage bug once and for all.
Check out Romper's new video series, Romper's Doula Diaries:
Watch full episodes of Romper's Doula Diaries on Facebook Watch.