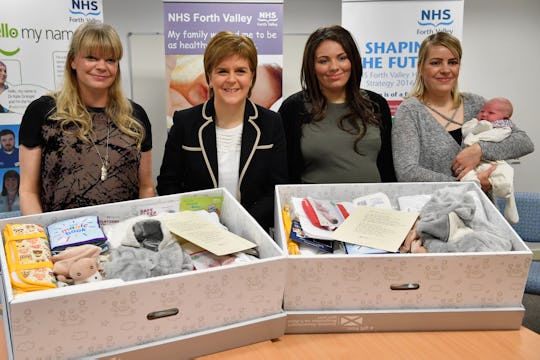 Jeff J Mitchell/Getty Images News/Getty Images
How To Get A Baby Box & All Its Essentials
Baby boxes have arrived in the United States! Or more specifically, they've arrived in one state — at least for now. On Thursday, New Jersey became the first American state to launch a baby box program, in which newborns' parents are given a sturdy box (which provides a safe sleeping space for the infant), as well as a bunch of baby essentials, all free of charge. Baby box programs have been credited with reducing infant mortality rates in other countries, and the supplies can give new parents a helping hand. Intrigued? Here's how to get a baby box of your own.
For parents in New Jersey, the process is simple enough. Any New Jersey resident who has a newborn under three months old can register at babyboxuniversity.com, where they'll need to provide a mailing address and contact information. They then have to watch a 10- to 15-minute video and take a quick quiz, after which they'll receive a certificate of completion. Once that's done, they can decide whether they'd like their free baby box shipped to them or whether they'd rather pick up their box from a distribution center. (The boxes are currently available for pick-up at Cooper University Healthcare and Southern New Jersey Perinatal Cooperative.)
For those who aren't based in New Jersey but may now have a sudden hankering to move to the Garden State, don't worry. While there's no free baby box program in other states yet, parents can buy a basic baby box from The Baby Box Co. for $70. (For those who want a slightly more packed baby box, you can definitely get it — there are five different boxes, all filled with different kinds of essentials. The "Every Mother Counts" box, however, will put you back a good $225.)
New Jersey is planning to give away around 105,000 baby boxes this year, which is the number of births the state is expecting in 2017. Program organizers are hoping the boxes will help lower the number of infant deaths that occur in the United States — currently, there are approximately 3,500 infant deaths a year in the country. Approximately 93 percent of cases of Sudden Unexplained Infant Death in New Jersey are due to babies' sleep environments, according to CNN, meaning the baby boxes being distributed aren't only helpful — they could potentially be life-saving.
If the program is a success in New Jersey, hopefully other states will catch on to the movement, and baby boxes will become the norm throughout the United States. Until then, expecting mothers should maybe drop their friends a hint or two about these awesome baby boxes — and perhaps shoot their state representatives a note or two about New Jersey's progressive new program.