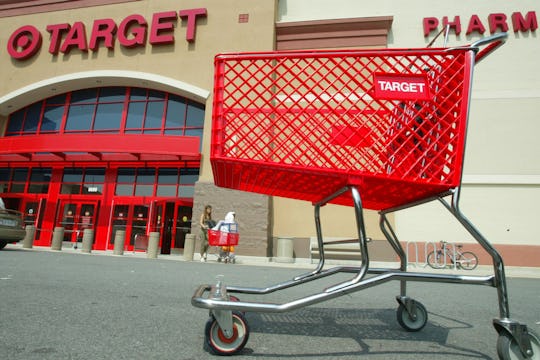 Alex Wong/Getty Images News/Getty Images
So Apparently You Can Get A Free Baby Onesie From Target & OMG Yes
Rumor has it that if you create a baby registry on Target's site, you'll get a free onesie for your new baby — and really, what could be better than that? Parents-to-be know that the months and years (probably even decades) ahead won't be cheap. Shoes, toys, clothes, diapers, wipes, child care ... I love it when big companies recognize that parents are up against it, and shell out the free gifts. So here's how to get a free baby onesie from Target (using their super fun welcome kit) and rep your favorite brand.
Chatter on forums like What To Expect and The Bump often revolves around which companies provide the best savings and gifts. In the world of marketing promos, a onesie is a pretty big giveaway. Right now, Target is killing it with its phenomenal Target baby gift bag packed with coupons and samples — but we'll get to in a moment. For now, I'm deliriously happy to confirm that you can, indeed, receive a free baby onesie — or as Target calls it, a bodysuit — from the heart of the bull's eye.
However, there are a few guidelines you'll have to follow to score this gift. A helpful Target employee tells Romper that if you've ever opted out of marketing campaigns, either nationally or from Target specifically, you won't be eligible to receive the gift. Forbes Magazine discussed the ins and outs of opting out for customers frustrated with Target's ad campaigns, but if you're reading this, I'm guessing you're not about to check that box now. So, assuming you haven't asked Target to stop bugging you with all their cranberry-red promos, and you've made a purchase from your registry, you'll receive your free baby bodysuit from the company around the time of your due date.
After your best friend buys you that wipe warmer you added to your Target baby registry, and before you realize you don't actually need a wipe warmer (true story: it happened to me), you'll be in the running for your gift. However, the item doesn't arrive until after your baby's expected birthday. When you sign up for your baby registry, you'll have to input your baby's due date and once that date has passed, Target will send that onesie *ahem, bodysuit* your way. However, the representative I spoke to suggested you make that purchase sooner rather than later, because freebie supplies are (sadly) limited. She also confirmed that the very first free bodysuit of the campaign was sent to a happy customer on Sept. 27, 2017.
My suggestion? Set up that registery and order something right away. My Target employee also recommended calling Target to let them know you're expecting (a bodysuit, of course), so that you'll know for certain that the gift is on its way. I wasn't able to discover how many of these onesies are left, but my guess is — not many. If you haven't made a registry yet, make one today.
While you won't find any information about the mysterious onesie on Target's baby registry page, you will notice that they offer a 15 percent discount on any products languishing on your registry after your baby's birthday, which is honestly pretty classy. Target also offers a welcome kit that you can pick up at the Guest Services center of your local store. According to the site's advertising, the welcome kit is worth $50 dollars in coupons and "handpicked" samples.
What's in the welcome kit, you ask? It probably changes month to month, and possibly weekly, but I can tell you that moms rave about it. A mom on The Bump forum posted a picture of a lovely bag filled with Boogie Wipes, Butt Paste lotion for diaper rash, a NUK pacifier, an Aveeno sample, an Aquaphor sample, and more. Free Stuff Finder showcased a gift bag containing Pampers diapers and wipes, a Mam pacifier, Johnson's baby lotion, Babyorganics lotion, and a LATCH bottle. You guys, there's a lot of stuff in this bag.
If you're wondering what's in it for Target to give away so much stuff to new parents, let me hazard a guess: nobody has as much product loyalty as a parent. I mean it. When was the last time you switched diaper brands, wipes, or baby shampoo brands? Never, right? Sign up for Target's baby registry, and get your welcome kit and free onesie while supplies last.
Editor's note: This post as been updated from its previous version.
Check out Romper's new video series, Romper's Doula Diaries:
Watch full episodes of Romper's Doula Diaries on Facebook Watch.