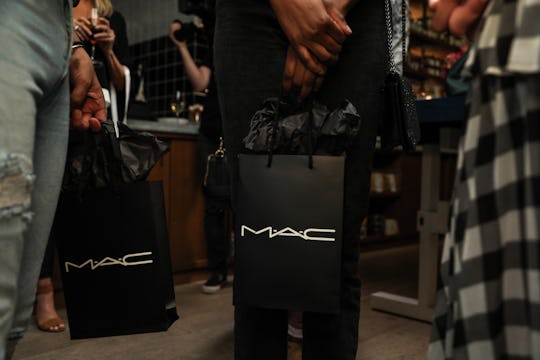 Anna Webber/Getty Images Entertainment/Getty Images
MAC Is Offering Free Liquid Lipcolor On Cyber Monday & Here Are The Deets
Though Thanksgiving's impending arrival usually means planning menus and carefully choosing your outfit to accommodate the inevitable food hangover, for the shopping fiends among us it can really only mean one thing: discounts. Black Friday — and its online cousin, Cyber Monday — are two of the best days of the year to nab some sweet deals, but now it looks like MAC Cosmetics is about to up its holiday sale game. Need proof? This is how to get a free MAC lip color on Cyber Monday as part of your beauty haul, because the deals this year are even better than pumpkin pie.
MAC is certainly no stranger to offering up an epic sale, but this year's Cyber Monday promotion is definitely one you won't want to miss. According to Refinery29, MAC will be offering a 25 percent discount to members of its MAC Select loyalty program from Nov. 21-27 (you can sign up online here), which, according to Teen Vogue basically means that you can nab a MAC lipstick for only $15 and change.
But since free lip color is even better than $15 lip color, listen up: when you spend $65 in store or online between Nov. 28 and 29, you'll actually get a free Retro Matte Liquid Lipcolor, which normally retails for around $21.
Though MAC might be best known for its lipsticks, Retro Matte Liquid Lipcolor is definitely a product that'll make you want to load up your Black Friday shopping cart. It comes in a variety of "robustly saturated shades," according to MAC, and offers up a "liquid suede finish" for a perfectly timeless look.
That's not the only freebie MAC is offering up though. On Cyber Monday specifically (Nov. 26), a $50 purchase will earn you a free full-size eyeshadow, according to Teen Vogue, which is also pretty awesome. The only potential downside? The sale won't actually apply to all MAC products or collections — the Patrick Starr and VIVA GLAM lines are excluded, for example, according to InStyle — but there will still be plenty of great deals to be had.
Of course, in addition to being a great opportunity to add to your personal makeup collection, MAC's Cyber Monday sale can also be the perfect time to pick up some holiday gifts for friends and loved ones. And unsurprisingly, MAC's got you covered there too, thanks to its newly-released 2018 holiday collection, Shiny Pretty Things.
Some can't-miss picks? This year, MAC is offering up a variety of festive Goody Bag kits, which currently retail for $39.50 and include either an shadow/liner/mascara combo, or a lip pencil, lipstick, and lipglass, in either red or nude shades. For hardcore lip color fans, there are also a number of mini lipstick and mini lipgloss sets, including one seriously cool 10-piece lipstick vault, which offers up fan-favorite mini lipsticks packaged in a metallic hot-pink collectors box — a $100 value, currently retailing for $79.50.
If beauty tools are more your speed, MAC's holiday collection also includes a mini set of metallic-wrapped face brushes (powder, cheeks, foundation, and concealer) for $49.50, and a set of matching mini eye brushes (two blending brushes, a shading brush, a smudger, and a liner) for the same price.
Of course, when it comes to scoring some great beauty deals at MAC on Cyber Monday, the sky's the limit. And though you may want to act quick to avoid missing out on the more popular items, this year's lip color promotion means that there will still be something for everyone: those who shop early will nab a free shadow with their qualifying purchase, while those who can hold off a couple of days will get the chance to score themselves a matte lip color at no extra cost. Win win? I'd say so.