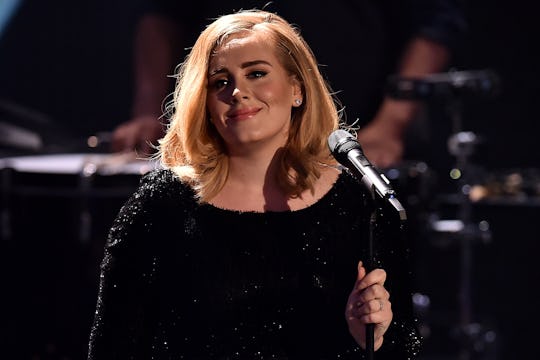 How To Get Adele Tickets Even Though They're Sold Out, Because Why Cry Alone When You Can Cry With Strangers?
Tickets to Adele's North American tour went on sale Thursday and promptly sold out. Presale for Adele tickets started on Wednesday, but even buyers with access had to wait in a queue for their shot at seats. The Boston Globe reported that tickets to Adele's TD Garden shows were sold out in under an hour. The Province ENT tweeted that "Adele tickets sold out in about 15 minutes." So, how can you get Adele tickets even after the crazy sell out? Fans can still score tickets, but it isn't easy (or inexpensive).
Demand for Adele tickets was so high that fans said the Ticketmaster website was having serious trouble processing requests in the ticket-buying fury on Thursday, according to Fast Company. Ticketmaster told Fast Company that the website did not crash, but that it experience some slowness in processing requests. The only fans who seemed to have an easier time securing tickets were those who registered at Adele.com and then received a presale code to snatch tickets early, according to CNN. For those that weren't so lucky, there's still a few ways to get tickets, but they won't be cheap.
Adele tickets are for sale on StubHub!, but the website includes a message indicating that only a limited number are available for distribution. Tickets run between several hundred and several thousand dollars. There are also tickets listed on local Craigslists around the country, but their validity may be a bit more difficult to verify. Ticketmaster does have a buyer-to-buyer resale option, Ticketmaster Verified Tickets, but it's unclear whether Adele tickets are available now.
Websites such as StubHub! allow you to sort tickets by price, so a good bet may be to search the concert date of your choice and refresh throughout the day, week, or month (if you're really dedicated) to look for the least expensive options. Fans may not want to count on snagging cheap seats, though. According to Forbes, the average resale ticket price for Adele's 2011 tour was $168, and analysts expect the success of 25 will boost the average for this tour even higher.
Adele did make an effort to keep her performances affordable. The New York Times reported that Adele worked with the company Songkick to try to block scalpers from purchasing tickets. Beginning with ticket sales in the U.K., Songkick controlled 235,000 tickets and tracked customers to prevent markups, potentially saving "more than $6.5 million in markups on secondary ticketing sites," according to the Times. Still, many fans just couldn't get tickets in the first hour they were actually available, and now they can't afford the ones that are being sold on StubHub! or Craigslist. To say those fans are disappointed would be an understatement.
If you're still on the hunt for tickets, just try 1,001 and one times — maybe you'll have some luck.
Image: Getty Images