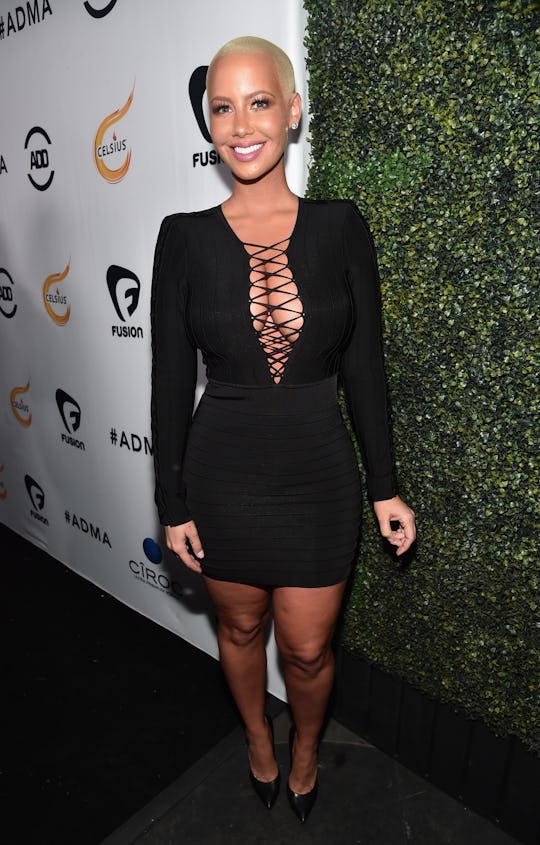 Alberto E. Rodriguez/Getty Images Entertainment/Getty Images
How To Get Amber Rose's Emojis, Because Your Texts Need This Attitude
Kim Kardashian West did it, and now, so has Amber Rose. The actress and model released her own line of emojis on Wednesday, called MuvaMoji. The emojis range from Rose-specific faces to emojis that depict a severe need for pizza, treadmill time, LGBT pride (Yay!) or a night of Netflix and chilling. So here's how to get Amber Rose's emojis, because obviously, they're a necessity.
If you've got an Android or iPhone, you're in luck. Sorry, Windows phone users — but then again, if you wanted easy access to things like Tinder and Kimojis and MuvaMojis, you probably wouldn't have bought a Windows phone. Head to either the Google Play store or Apple's App Store and look up "MuvaMoji," making sure to spell it as one word. You can then purchase the keyboard emoji app for $1.99. (Paying for anything in the world of free apps can sting, I know, but when you think about it, that's just a coffee.)
If you're part of the Mac crowd, here's what you'll want to do after installing. First, head over to "Settings" > "General" > "Keyboards." From there, tap "Keyboards," and add MuvaMoji to your roster of keyboards. Since it's a third-party keyboard, you'll need to allow full access — however, MuvaMoji has a little disclaimer on its App Store page, writing: "Rest assured that MuvaMoji will NEVER collect any personal information or transmit what you type over any network. ... We take our user's privacy very seriously. Should you not want to use the keyboard, all of the content can be accessed directly from the app instead."
For those who are glued to their Samsung Galaxies or other popular Android devices, most keyboard apps will automatically be available for use after downloading, or they'll walk you through installation. However, if you don't see the emoji keyboard pop up automatically, go to "Settings" > "Language & keyboard settings." Make sure that the box next to MuvaMoji is checked, and you should be good to go.
So, next time you need an emoji that expresses your spending habits, pride, safe sex, or spa day plans, Rose is your girl. A heads up before you make the plunge to start using Rose's varied emoticons, however: Some MuvaMoji are definitely not emojis you want to accidentally send to your boss, or mother-in-law, or child. Other than that, though, they're a whole lot of fun, and will definitely bring a modern twist to your texting.