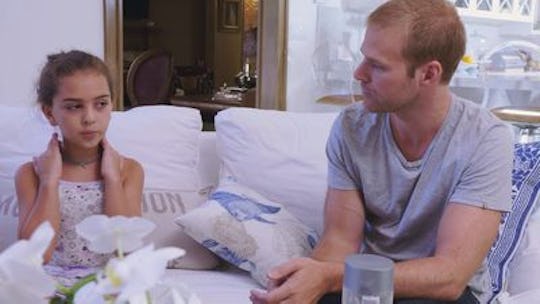 TLC
Here's How To Get An Appointment With Charlie Goldsmith From 'The Healer'
If you go on the internet, read the news, or even leave your house on a daily basis, the world can seem like a really scary place these days. Which is why some may find themselves interested in TLC's new show The Healer, which features an Australian energy healer, who cures people of their physical ailments just by being himself and closing his eyes. It's kind of amazing and once you see what he does, you're really going to want to get an appointment with Charlie Goldsmith from The Healer to see if he can work his "magic" on you, too, if you suffer from chronic pain, allergies, or chronic infections.
Given his new show and the fact that medical experts and celebs are swearing by his work, it's hard to get an "in" with Goldsmith. There's a contact form on his website with the disclaimer:
Charlie is currently experiencing an overwhelming number of requests and is unfortunately unable to take on any new cases. It is Charlie's hope that healers will be more accessible in the near future to make this kind of practice readily available to everyone.
So, he's not currently taking on clients. But he has a robust social media presence, so you might want to follow him to see if he posts about an opening soon or recommends other colleagues or something.
Because, apparently, what Goldsmith does isn't magic at all and can possibly be taught. Maybe. Goldsmith, who doesn't charge for his work, hopes that the TLC show will bring some "credibility" to his work, according to an interview he did with People.
I don't have a clean slate, like, I've just discovered healing, and everyone's like, 'We've never heard of that, let's check it out.' It's like, I've just discovered healing and everyone's going, 'Well, that's been proven to be fraudulent.' Then I've got to go, 'Okay, no it's not a fraud — just give me a second of your time and I'll show you it's not.'
He's been working with patients publicly since about 2015, though his work became public after a 2013 hospital study done at the New York University Lutheran Hospital. Another double blind study is in the works and going through the IRB approval process right now.
Francois Dufresne, M.D., the lead author of the 2013 study told Elle last year that the most compelling example she saw of Goldsmith's work was with a 45-year-old woman with cancer who was in a lot of pain. The patient told Dufresne that her pain level was at a 7 out of 10. So she offered the woman a chance to be in the study:
Charlie came in. He asked her where is the pain exactly, what does it feel like, what makes it better or worse. It was a brief conversation of about 30 seconds. He asked her to close her eyes. He put his hand over the right side of her abdomen about 10 inches away and closed his eyes. His eyelids fluttered. After about 15 or 20 seconds, he asked her how she was feeling. She said her pain decreased by about 30 percent. He tried again, and after another 15 to 20 seconds, she said she had no pain.
Dufresne explained that she's seen him heal people with pain and believes in his work. "The point is to get patients better, and if it happens by means that aren't fully understood, that's okay," she said.
Charlie is said to heal pain, infections, and even allergy symptoms. There are client testimonials from people who've been relieved of their depression and anxiety symptoms, leg pain, coldsores, and, well, pretty much anything you can think of. Dr. Ramsey Joudeh at the NYU Lutheran Medical Center said in a testimonial on Goldsmith's website, "In some cases Charlie reduced a patient's pain from 10 to zero. He also treated people with infections where antibiotics were not effective."
It's pretty amazing — just think of all the good that getting people off of painkillers, or out of expensive hospital stays could do. The first season of The Healer will feature celebs like Real Housewives of Beverly Hills' Kyle Richards and Dirty Dancing actress Jennifer Grey, who's suffered from chronic neck pain since she was in a car accident 30 years ago.
Hopefully Charlie's schedule clears up soon so that countless others can also be relieved of whatever pain ails them.
Watch Romper's new video series, Romper's Doula Diaries:
Check out the entire Romper's Doula Diaries series and other videos on Facebook and the Bustle app across Apple TV, Roku, and Amazon Fire TV.