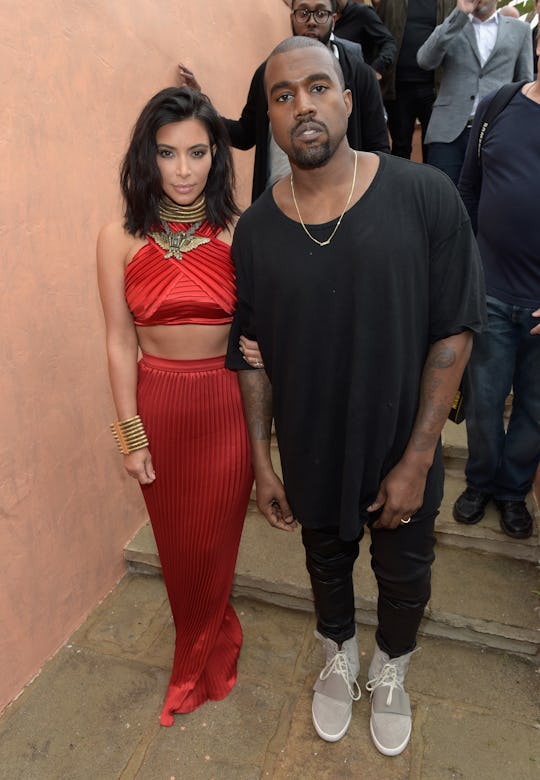 Jason Kempin/Getty Images Entertainment/Getty Images
How To Get Baby Yeezys, Because They'll Probably Sell Out Way Too Fast
When kids and parents don matching outfits, it's always a photo op. But when kids and parents slip on matching Yeezys, paparazzi might just storm the suburbs. Fans of Kanye West's line with Adidas can finally get a pair of famed sneakers for their infants: a particularly stylish alternative to basic booties and velcro shoes. Wondering how to get baby Yeezys? The sneakers go on sale Saturday, according to USA Today.
Fans only got their first look at the sneakers on Monday, USA Today reported. The Yeezy Boost 350 'Infant' is designed to look just like the adult version of the shoes. Available in Turtledove and Pirate Black, they run from size 5k to 10k and cost $130. Some buyers were able to reserve shoes beginning Wednesday, but most parents will have to compete with the rest of West's fans eager to snag a pair.
Details of the Yeezy Boost 350 'Infant' are already up online. Part of the Adidas Originals by Kanye West line, the shoes are designed with a moccasin in mind and include a breathable upper and rubber outsole. They're available for purchase Saturday, Aug. 27, but right now, fans can subscribe to updates on Yeezy shoes through the Adidas website. Anyone hoping to score a pair can try to place an order online Saturday or contact a local Adidas store to see if they have them in stock.
The Kardashian kids are already rocking their Yeezys. Kourtney Kardashian stepped out this week with son, Reign; according to Footwear News, the 20-month-old wore Yeezy Boost 350s in Turtledove. North West and mom Kim Kardashian West have both opted for Pirate Black Yeezys in the past. Both Kim and Kourtney showed their support for West by plugging the shoes on Snapchat.
Adidas and West have had a profitable partnership. Their first collaboration led to the creation of the Yeezy for Adidas Originals shoe, CNN Money reported; the brand then presented the rapper's debut fashion line in early 2015. In February 2016, West practically filled Madison Square Garden when he held a fashion show to debut Yeezy Season 3, according to The New Yorker. In June, CNN Money reported that Adidas extended and expanded a partnership with West, planning to design new outfits with athletics in mind while exploring the possibility of opening Yeezy retail stores.
Though fans of West's work have a lot to look forward to, Yeezys for infants are definitely the must-have of the moment.