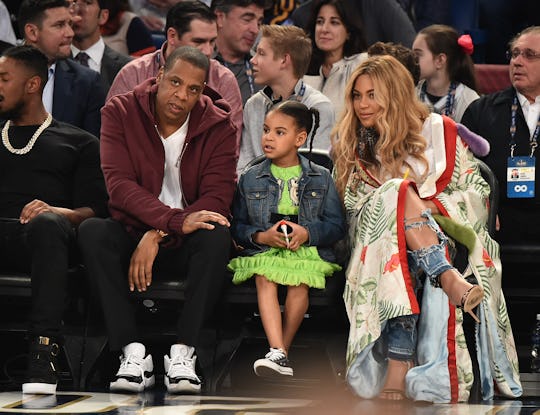 Theo Wargo/Getty Images Entertainment/Getty Images
Beyoncé Rocks "Preggers" Shirt In New Instagram
If there is one thing this world could use right now, it's more Beyoncé. Well that, and a health care bill that wouldn't strip insurance from millions of Americans. But alas, it seems that we may only get one of those things today. Because Beyoncé uploaded a new photo to Instagram, featuring an adorable new shirt. So, want to know how to get Beyoncé's "Preggers" shirt? Well, you're not alone.
In her latest Instagram posts, the Queen herself shared an adorable selfie, featuring some seriously enviable lips and a shirt that read "PREGGERS" across the chest. But she also uploaded a full-body shot, making her new shirt all that much more desirable.
Of course, we all remember when Bey first announced her pregnancy back in February, and she surprised the world with a perfect maternity photoshoot with the news that she and Jay Z were expecting twins. At the time, it didn't seem like it could get any better. But, of course, she's Beyoncé, so it can always get better. Since then, Mrs. Carter has also blessed the world with numerous photos featuring her bump, and her sweet glow of course.
As for her latest uploads featuring the "Preggers" shirt, it seems as though you might have to do some searching to get your hands on your own, since the shirt doesn't appear to be for sale anywhere on her site.
While her website may feature many rockin' items of clothing, a "Preggers" shirt is noticeably missing from the inventory. However, if you want to try and pay your respects to the Queen's style, there are plenty of options out there for you.
There are several stores on Etsy, like KaileighsKreations, that specialize in maternity shirts, like this one:
However, if you really like the block letter style of Bey's own shirt, and don't mind a more comical approach to a maternity shirt, then Etsy shop PRIDEANDPERK may have the right shirt for you:
Obviously, though, you could always make your own version of Queen Bey's shirt, for true authenticity.
According to In Touch, Bey and Jay Z have already made hospital arrangements for the birth of their newest little ones, as Bey's due date nears.
"They scheduled the C-section and prepared an A and a B team as decoys to confuse photographers and fans, and everyone signed confidentiality agreements," a source told In Touch.
So get ready, y'all. "Preggers" shirt or not, Bey will be giving birth soon, and Blue Ivy will have some little siblings to play with in no time. Oh, and maybe we can all be momentarily distracted from the hell-fire that is our current political climate.