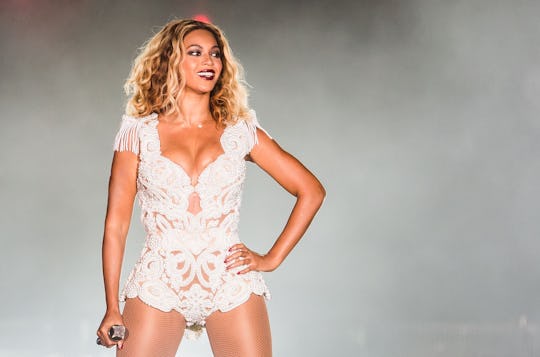 Buda Mendes/Getty Images
How To Get Cheaper Tickets To Beyonce's Formation World Tour, Because You Definitely Don't Want To Miss It
Beyoncé announced her next world tour on Super Bowl Sunday, and fans are already scrambling to snag seats at one of her 30 concerts. After the great Adele debacle of 2015, prospective buyers are wondering how to get cheaper tickets to Beyoncé's Formation Tour. There's a good chance that bargains will be hard to come by, but there are approaches you can take to evade scalpers and avoid ridiculously high resale prices.
If you're open to buying early, you may want to consider one of the presales starting online today. Beyoncé's fan club, the BeyHive, is hosting a members-only presale, ABC News reported this week. (You can sign up to become a member of Beyoncé's fan club on her website.) American Express is also hosting a presale exclusively for cardholders that opens today and runs through Feb. 14. It's unclear whether applying for an American Express card now can get you presale access, but you can submit your details online; The timeline for approval varies, but if you meet the criteria for Express Approval you may get a response within minutes. If it doesn't work out, you can cancel most American Express cards by calling the number on the back.
Beyoncé Formation Tour VIP packages also went on sale in specific markets abroad, according to the International Business Times. If you've been planning a vacation to Paris or Milan, why not up the glamour with VIP treatment at a Beyoncé concert while you're there?
Live Nation's presale on the app starts Feb. 12 for multiple markets, according to ABC News. Formation Tour tickets will go on sale to the general public through Live Nation's website on Feb. 15. If you opt to order via any ticketing service, use apps, websites, and old-fashioned phone calls to up your chances of scoring seats.
If you end up with no choice but to navigate the ticket resale marketplace, don't worry: Prices may spike at first, but you may see them drop as each concert date approaches. Your best bets might be tried-and-true SeatGeek, StubHub!, and Ticketmaster Resale. Since some of the concert locations are reasonably close together, you might also want to check prices for different arenas if you're willing to travel. If you don't mind risking it all, you could even stick it out as one of the brave few who buy tickets within days or hours of the show. If the seller is desperate enough to drop their asking price, your patience may pay off.
Yes, getting tickets to see Beyoncé will be a pricey challenge. But while some Formation Tour tickets are expected to sell for $250 to $300 each before they even hit the resale market, Billboard reported, there are still some seats that may go for as low as $65. Ideally, if you order tickets early and get crafty with your approach, you may be able to see Beyoncé live without sacrificing your entire savings account.