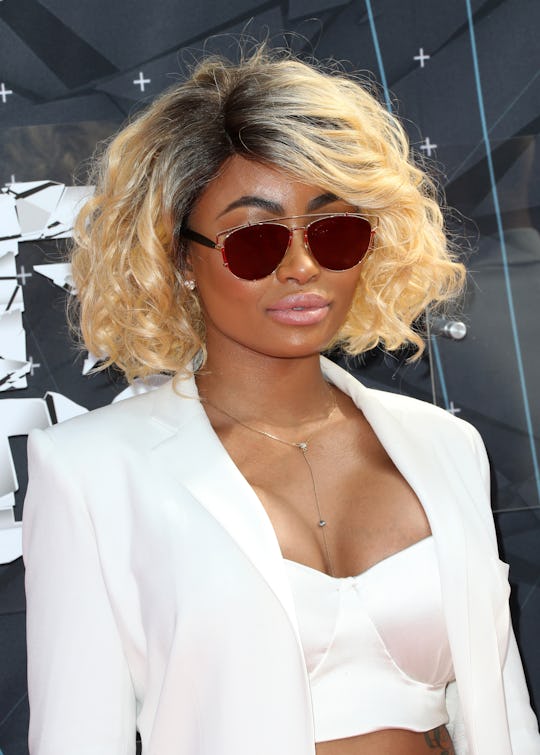 Frederick M. Brown/Getty Images Entertainment/Getty Images
How To Get ChyMoji, Blac Chyna's Emoji, Because There Are So Many Cute Baby Emoji
The next wave of Kardashians are poised to take over the world. Now that video vixen Blac Chyna is engaged to and pregnant by sock designer Rob Kardashian, she's ready for her reality TV welcome package, including her very own line of emoji, just like her sister-in-law-to-be Kim Kardashian's Kimoji. Here's how to get ChyMoji, Blac Chyna's emojis on your own device following Tuesday's debut release.
The ChyMoji app is available in the iTunes store for $1.99 and includes everything from her and Kardashian holding a peeing baby, to a presidential campaign poster showing Chyna as Secretary Hillary Clinton's presidential running mate. And yes, ChyMoji feature a noticeably slimmed down Rob Kardashian. The best — and the ChyMoji I imagine moms will use most often — is the one of her holding a baby peeing all over her and Kardashian like the fountains at the Bellagio hotel in Las Vegas. Pretty amaze.
Chyna's personally branded emoji app isn't really anything new. Besides Kim Kardashian's Kimoji, which broke iTunes when it was released earlier this year, Chyna's friend Amber Rose also released her own emoji app, called MuvaMoji.
The ChyMoji app is just one of the first steps in her Kardashian-inspired media makeover. Chyna and Kardashian are also reportedly in talks to star in their own reality TV show based on their life together with their new baby. Making matters even more intriguing is the relationship between Kardashian's little sister Kylie Jenner and Tyga, Chyna's former fiancé and father of her son, 3-year-old King Cairo. The ChyMoji are one of what appears to be many projects in the works for the couple. Kardashian even used one of the ChyMoji featuring a very pregnant Chyna to announce that she was going to have a little Kardashian of her own. There's the social media magic we've come to expect and admire from the Kardashian team!
Here's a closer look at all the ChyMoji available in the app.
Personally, I love this one of Chyna and Rose drinking tea.
There's also this one showing Chyna and Kardashian pushing a stroller.
Between the yellow stroller and this emoji showing a baby (who looks like a boy!) peeing, do you think Chyna's trying to hint at the sex of her new baby?
Congratulations to the happy couple and best of luck with the ChyMoji venture. With the new baby and a potential reality show of their own, I have a feeling we'll be seeing a lot more of Chyna and Kardashian. They're fun, obviously in love, and it's going to be fascinating to watch them handle the inevitable sticky family situation between Tyga, Chyna, Rob Kardashian, and Jenner. But let's just hope everyone is able to keep things on a fairly even keel, for the sake of little King Cairo and his new sibling on the way.
In the meantime, I'll be tweeting Chyna and her peeing baby to every mom I know.