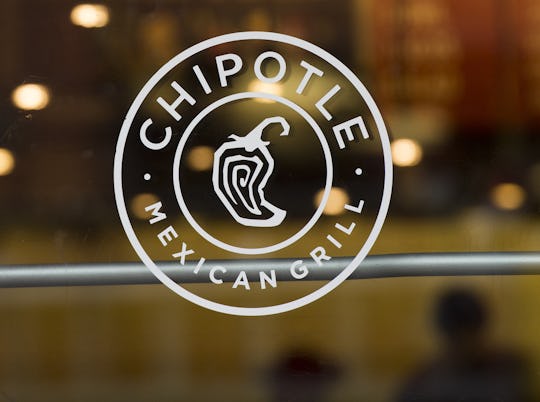 SAUL LOEB/AFP/Getty Images
How To Get Free Chipotle, In Case The Closure Has You Craving Your Daily Burrito Fix
Big news, burrito fans: Chipotle wants to make your foodie dreams come true. Since the restaurant closed for a chain-wide meeting today, they're making it up to their supporters by offering burritos on the house. If you're wondering how to get free Chipotle, all you have to do is text "raincheck" to 888-222, according to TIME. You'll get a reply with a coupon link, though it may not arrive for a few days. It's not too difficult to imagine that Chipotle's already getting plenty of responses!
Chipotle closed all of their restaurants today from approximately 11 a.m. to 3 p.m., according to Fortune. The goal is to get all of their locations up-to-date on protocols following a major health scare earlier this year. The Chipotle national meeting involved approximately 50,000 employees and over 400 locations to talk about food safety, according to CBS News. The company is recovering from an E. coli outbreak that shut down dozens of restaurants across the country and a separate outbreak of norovirus at their Boston College location. Though the Centers for Disease Control and Prevention (CDC) and the U.S. Food and Drug Administration both appear to have given the all-clear, Chipotle headquarters is still working to ensure that no more customers get sick.
Chipotle's food safety procedures can be found on their website. Though the chain sources many of their ingredients locally (30 million pounds of produce in 2015), they send some shipments to central kitchens for evaluation before being sent to restaurants. High-resolution tests look at food quality both in the field and after packaging. In that same website statement, Chipotle explained the importance of using central kitchens for some ingredient preparation:
Tomatoes are a great example. Until recently, we diced tomatoes at our restaurants. Because we use up to five cases of tomatoes a day at each Chipotle, it wouldn't be practical to individually test each tomato after washing and before dicing.
Careful food preparation doesn't stop at the restaurant door: Chipotle released specific rules for marinating chicken and steak, produce blanching, and maintaining a sanitary work environment. The company not only incentivizes food safety, but they offer a paid sick leave program to ensure that no one feels pressured to step into the kitchen when they're unwell. It's all indicative of Chipotle's desire to put the rocky events of the past year behind them.
It will likely take Chipotle a long time to earn back consumers' trust. But for now, burrito fans can delight in free food and in the knowledge that Chipotle really does want to make things right.