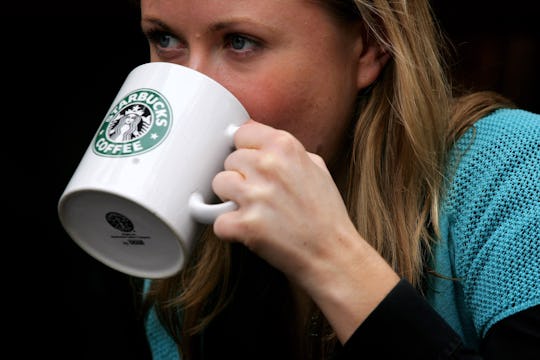 Daniel Berehulak/Getty Images News/Getty Images
Here's How To Get Your Hands On Free Coffee For National Coffee Day
Friday is National Coffee Day, arguably one of the best holidays, even if it's not one that we get off from work or anything like that. To celebrate, many coffee franchises are offering deals to customers to draw them in — whether those deals involve free coffee right off the bat, or only if you first spend money on something else. But do you know how to get free coffee on National Coffee Day? You can't just go to any old coffee shop to do it, although your local cafe might be participating just as much as the big chains are.
I'm not entirely sure why Friday, of all days, is National Coffee Day. It is one way to celebrate the beverage that so many have grown to love (read: rely on), and Oct. 1, 2015 was the first official International Coffee Day, according to the International Coffee Organization Blog on Tumblr. But if you're a coffee lover, it might not really matter why National Coffee Day happens, just that it does, and you can get some epic deals to celebrate the auspicious occasion.
So where can you get these deals? Lots of national chains are participating, but they're doing so in different ways.
Let's start with one of my favorites — Dunkin' Donuts.
Even if "donuts" is part of the name, Dunkin' is definitely known for its coffee as well. On Friday, Dunkin' Donuts is offering a buy-one-get-one free coffee deal — but customers have to purchase a medium or larger size hot coffee to then receive an extra free medium-sized coffee, according to Fortune. So, it's sort of free? If you really love coffee, having two of the treat might not be such a hardship. Or maybe you've got a friend you can split the cost of one with, and then you both get one. It's a win-win, really.
Maybe you're more of a Krispy Kreme person, though. That chain is offering a free cup of hot coffee of any size, or a small iced coffee, every day from Sept. 29 through Oct. 1, according to The St. Louis Post-Dispatch. I adore Krispy Kreme, so I would definitely take advantage of that deal if I could. Alas, there are no locations near me, so if you have one around the corner, go get a free coffee (and some of those delicious donuts!) and let me live vicariously through you, please?
McDonald's is getting in on the game, too. Any small McCafé espresso is just $2, but if you download their app, once you purchase 5 McCafé beverages, you get one free, according to The Detroit Free Press. So, again, not free right away, but if you're dedicated enough, or a regular visitor anyway, you might earn a free coffee on National Coffee Day at McDonald's.
Cinnabon is offering free 12 oz. cups of coffee all day for National Coffee Day, according to Fortune. So if you're in the mood for some cinnamon rolls or other treats in addition to your free coffee, you're in luck.
Then there's Tim Horton's, which I was first introduced to when I went to college near Canada, and which I maintain is one of the best coffee chains out there. Starting on Friday, Tim Hortons locations in the United States are offering a free Original Blend, Dark Roast, Decaf or Iced Coffee of any size — if customers download the chain's app, according to Business Insider. That deal lasts from September 29 to October 8, so you don't even necessarily have to go in on Friday to take advantage of it. Thanks, Timmy Ho's, for fueling our coffee fix long after the holiday is over.
But what about Starbucks, arguably one of the most popular and prolific coffee chains there is? Technically, you can't get a free coffee there for National Coffee Day. Blasphemy.
But the chain has a good alternative to the freebie. Instead, Starbucks is changing its menu boards and replacing them with signs that give more background on the coffee being served to you, according to Business Insider. The signs detail the company's ethical sourcing of its blends, and will remind customers that they support farmers by purchasing coffee at Starbucks, according to Fortune. So the coffee might not be free on Friday, but you can feel good about buying it from Starbucks if that's where you go for your midday pick-me-up during lunch.
Other chains like Wawa, Peet's Coffee, and 7-Eleven are participating in National Coffee Day, as well. But it might also be a good time to check in with your local, independent coffee shop and see if they're taking part in the holiday, too. My local shop isn't doing free coffee, but it it selling lattes at a reduced price to celebrate.
So don't feel guilty about looking for deals to feed your coffee addiction. National Coffee Day only comes around once a year, and you've got to do something to celebrate, right? Now, please excuse me while I go grab another cup for myself.
Watch Romper's new video series, Romper's Doula Diaries:
Check out the entire Romper's Doula Diaries series and other videos on Facebook and the Bustle app across Apple TV, Roku, and Amazon Fire TV.