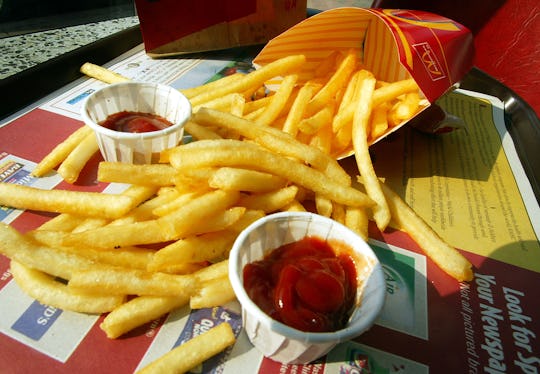 Mario Tama/Getty Images News/Getty Images
You Can Get Free — Yes, Free — McDonald's Fries All Year Long & Here's How To Do It
French fry enthusiasts across the country likely tracked down the best deals and freebies for National French Fry Day, on July 13. Because I mean, who doesn't love the crispy, potatoey goodness of fries at little to no cost? Plus, it's one of those "holidays" that's too fun not to celebrate. From McDonald's, to BurgerFi, to Wayback Burgers, even to Dunkin' Donuts, restaurant chains and local businesses across the nation got in on the action. For those who missed the french fry deals — or who simply desire free fries more than once annually — here's how to get free McDonald's fries all year long. Because who doesn't want free food?
OK, so here's the lowdown, folks. As BuzzFeed reported on Thursday, it is imperative to download the McDonald's app in order to snag this awesome deal, which is available from July 2 through Dec. 30, 2018. So first, you download the app and set up an account. From there, you will have access to a selection of deals that varies depending on the day.
Every Friday during this time period, though, app users will see a deal for a free medium order of french fries with any $1 minimum purchase, Business Insider reported. Literally, all you have to do is buy a sandwich and get free fries. Or buy a $1 drink and get free fries. Heck, you could buy a couple of apple pies, a three-pack of cookies, or a hot fudge sundae — and then get free fries. As long as you're spending at least $1, those golden sticks of perfection are yours at no additional cost. It's a pretty awesome deal, right?
In order to redeem this deal — or any deal on the app, really — users have a few options. You can order through the drive-thru or walk into the restaurant, order your food like normal (including the medium fries,) pull up the deal on the app, and then have the cashier scan the QR code. Poof! The amount of the medium fries will automatically be taken off your total.
You can also choose to place a mobile order, for which you can add the deal to your cart and the amount for the fries will be taken off there. Submit your order, and the card on-file will be charged after your order is finalized. Once you arrive at McDonald's, simply check in for pickup — curbside, by walking in, or by pulling through the drive-thru — and free french fries are just moments away.
Upon hearing of the news of "free fries Fridays," Twitter has expressed a range of reactions.
OK, I'm going to be honest with you — I've been an avid McDonald's app user now for quite some time. In my area, McDonald's restaurants have been offering the whole "free fries Friday" deal for months now, and let's just say I have been participating liberally. And as Delish reported, scoring free fries isn't the only notable deal on the McDonald's app: "Get A Sandwich For $1", "Get A McDouble For $1", and "$1 Any Size Coffee" are just a few other options for app-users. And for all the coffee lovers out there, my area at least has a McCafe punch card, which gets you a free, any-size McCafe drink each time after you purchase five McCafe beverages. (The only catch is you can only use one deal per order.)
So if you haven't already, I would highly suggest downloading the McDonald's app and taking advantage of some of these deals; your wallet will surely thank you.