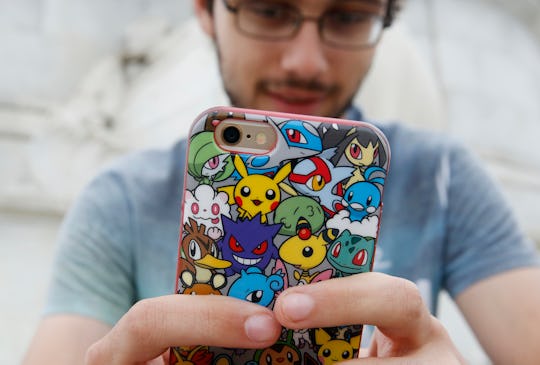 Olivia Harris/Getty Images News/Getty Images
How To Get Free Poke Balls On 'Pokemon Go' With This One Sweet Trick
Good news for all of those penny-pinching trainers playing "Pokemon Go": You don't have to spend a fortune on Poke coins to keep advancing in the game. In fact, here's a sweet tip a few smart trainers out there have discovered and are willing to share on how to get free Poke Balls on "Pokemon Go"— because you know you won't be able to stop until you collect them all.
At first, according to ComicBook.com, it might seem like you have practically an endless supply of Poke Balls, but as you try to catch trickier Pokemon, you'll need an increasing supply. There are three typical ways to collect Poke Balls: get them at a Poke stop, collect them as you level up, or buy them at the Pokemon Go store.
But a couple of intrepid trainers have started to use a simple trick to earn coins for free Poke Balls. They swear it works, so it's probably worth a try. YouTuber "hi im twit" shared his own story about being caught on the verge of catching a Pikachu without any Poke Balls to seal the deal.
"Some of you guys just might not be able to purchase coins for 'Pokemon Go' and there's not anything wrong with that," he said on the video explaining how to get free Poke Balls. "Whether you don't have the money or are just not allowed to do it, it's OK."
So here's how he said it works.
First you click the "Cash for apps" link in his YouTube video, make an account, and sign in. Then, as you download and play with the apps they offer, you earn credits you can turn into gift cards that you can use to purchase Poke coins.
"I 110 percent know it works," he said. Take a look at the video.
Another YouTuber named "Aro" is also promoting the "Cash for apps" method of earning free Poke coin. He also shared a secret tip. "You're only going to come on this site once or twice a day," he said. "This is because every once in a while this site will get updated and you will get higher rewards for each app you install."
He said players can earn 200 Poke balls in about 10 minutes. Then once they've earned enough points, they can redeem those for gift cards. That's it, and it's easy and hassle-free, according to Aro. Take a look at his video talking about how to use "Cash for apps" to earn free Poke Balls.