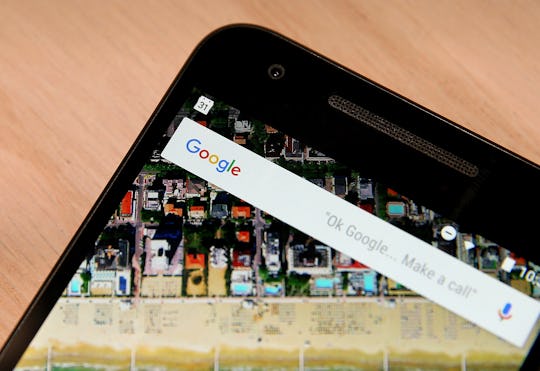 Justin Sullivan/Getty Images News/Getty Images
How To Get Google's Family Link Parent Control App
There's no denying that screen technology is now a standard element of childhood, thanks to ubiquity of smartphones, tablets, and even smart watches. On Thursday, Google announced that it's releasing a new parental control tool called Family Link. Here's how to get Google's Family Link parental control app, because the features it touts look to change not just how your kids use mobile technology, but how you interact with technology as a family.
One of the most exciting features of Google Family Link is that kids under the age of 13 can finally get their own Google Accounts, a feature that's been long awaited since rumors of Google products for kids under 13 began swirling around the mobile app world three years ago. These kid-friendly Google Accounts must be linked to a parent's account — hence the name, Family Link. Google Family Link also allows parents to manage what apps their child can access, track their child's app usage, and set a device bedtime for when it's time for screens to turn off for the night.
Considering that a 2015 study in Pediatrics found that a whopping 97 percent of children have used a mobile device before the age of 4, Google Family Link comes as a welcome and necessary tech tool for many parents.
Sounds groovy, right? There's a bit of a catch if you're itching to download Google Family Link right away. First, Google Family Link is only available for Android devices running a new Android device running the Android 7.0 Nougat operating system or higher right now. This of course means that no, Family Link is not available for Apple iOS — yet. You can still sign up for updates that tell you when Family Link becomes available for devices other than Android.
Second, you can't actually download it just yet — Family Link is available by invitation only, which you can request at the Family Link website. The app invite request process consists of four quick questions, after which you'll most likely be added to a waitlist. Pavni Diwanji, Google's vice president of engineering, said in the company's blog post Thursday that the Family Link early access program is necessary since the app is "just getting started," and the company will be soliciting feedback from parents during this early access period to fine tune the app experience before it's made more widely available.
Also in the announcement at its company blog, Google said Family Link will help "families navigate technology together" — an enticing promise given how many kids have smartphones. According to a 2016 report by Influence Central, most children get their first smartphone by age 10; other studies and reports have suggested kids are getting smartphones at even younger ages. The company also stressed that it's up to parents to actually parent their child's smart technology interactions — Family Link won't waive a magic wand to suddenly make an adult app content kid-friendly:
While Family Link can help you set certain ground rules around how your child uses their device, it can't make the apps or services on their phone that were designed for adults kid-safe; it's up to parents to choose what's right for their kid. When you make the decision to give your child their own device, Family Link can serve as a tool that keeps you in the loop as they begin to explore.
That's what makes Google's Family Link parental control app such an important tool for families. Family Link isn't meant to encourage helicopter parenting and it's not trying to shield your child from the real world. Instead, Family Link aims to teach children responsible internet and mobile technology use from an early age.