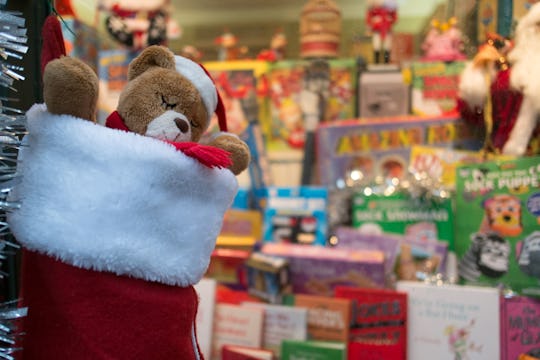 Matt Cardy/Getty Images News/Getty Images
Here's How You Can Get Help With Christmas Presents This Year
While the holidays may be a time for joyous celebration and giving, for families struggling financially they can be also be a stressful time. Those magical Christmases you see in movies don't come cheap, after all. If you find yourself looking at your kids' wishlist and wondering how you'll pull it all off, here's how to get help with Christmas presents this year. Fortunately, there are a variety of organizations that aim to meet this exact need around the holidays.
There's no denying that holiday shopping can get pricey. The Gallup Poll reported that American adults estimated average holiday spendings around $885 this year. Additionally, a separate study conducted by the National Retail Federation determined that Americans will spend more on gifts in 2018 than they did in 2017, according to Investopedia. While these numbers may differ from one family to the next, the holidays are costly all around.
More families will struggle to provide around the holidays than you might think. The National Center for Children in Poverty reported that 41 percent of all U.S. children — that adds up to 29,589,986 children total — currently live in low-income families. These families often struggle to meet their most basic needs and pay their bills from month to month, much less purchase gifts around the holidays. If you or someone you know falls into that category, here is a list of organizations looking to help.
Toys For Tots
Perhaps one of the most well-known organizations to help with the holidays, Toys for Tots is run by the Marine Corps with locations across the country. It accepts, sorts, and distributes toys from the the community. If you are in need of toys, simply find your local campaign, fill out an application, and wait to hear from a local coordinator. Toys for Tots provides children newborn to 14 years of age with one new large toy and one small new toy.
The Salvation Army
Similarly, the Salvation Army Christmas Assistance Program provides toys for needy kids via its Angel Trees. Locate an Angel Tree near you to apply for a gift or to provide one to another family. As a needs-based organization, financial need must be proven to receive gifts from the Salvation Army. If you qualify for government aid, such as WIC, food stamps, or Medicaid, you likely qualify.
Contact Local Churches
While not one organization in particular, many community churches organize toy drives around the holidays. Reach out to those near you to see if they are collecting toys or taking sponsorship applications. Some churches offer Christmas dinner services as well.
Contact Agencies
According to The Spruce, children who participate in service agencies like Early Intervention and Headstart where they receive free services due to low income, developmental delay, or trauma may receive gifts. These organizations often hold toy drives to benefit the children enrolled in them. Consider reaching out to any child service organizations that you utilize and see if there are any upcoming holiday benefits.
Soldiers' Angels
Along with the options listed above, military families in need can go to the Soldiers' Angels Operation Outreach Holiday Support around the holidays. Lower ranking enlisted families can sign up for this program and receive gift cards for $50 to $100 to help pay for a holiday meal, as well as toys for kids in the household who are 15 years of age and younger.
Getting through the holidays on a budget can be hard, and it is made even more difficult when finances are tight. Charities and other organizations offering toys and food can make it all a bit easier. Consider reaching out for help if the cost of the holidays is bearing down on you.
This first-time mom wants to have a home birth, but is she ready? Watch how a doula supports a military mom who's determined to have a home birth in Episode One of Romper's Doula Diaries, Season Two, below. Visit Bustle Digital Group's YouTube page for the next three episodes, launching every Monday starting November 26.