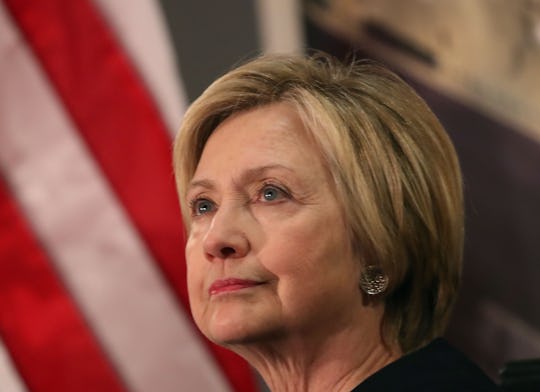 Mark Wilson/Getty Images News/Getty Images
How To Get Hillary Clinton's Book Of Essays
Former First Lady, Mayor, Secretary of State, and 2016 Democratic Presidential Candidate Hillary Clinton is reportedly working on a book of personal essays. Simon & Schuster announced its acquisition of the untitled book on Wednesday. You can get Hillary Clinton's book of essays, which will talk about her loss to Donald Trump, this fall, which is when it's slated for release.
Clinton has also authored many other books, including several memoirs, and the seminal book on child rights, It Takes A Village, which is expected to be reissued later this year as an illustrated book for children. Her forthcoming book of essays is expected to include reflections on the 2016 presidential campaign and will be structured around quotes that have inspired Clinton throughout her career, according to the Associated Press. Of note, this will be the first book Clinton has penned as a private citizen rather than while holding public office.
Since her career in public service began almost fifty years ago, Clinton has rarely been out of the public eye. In the months following the presidential election, which she lost in an enormous upset to Donald Trump, she's mostly laid low. While many supporters managed to catch her hiking in the woods near her home in upstate New York, she made few official appearances until Trump's inauguration in January, which she attended with her husband, former President Bill Clinton.
In addition to being frequently spotted in nature in the weeks following the election, Clinton was also seen out and about in several local bookstores. At a fundraiser she attended in late November — her first public appearance post-election — she told the audience: "There have been a few times this past week when all I wanted to do is just to curl up with a good book or our dogs and never leave the house again."
Clinton certainly has a lifetime of fodder to draw upon when it comes to crafting her new book. Even if the essays are mostly focused on the last year or so that she spent campaigning, there's plenty of drama and intrigue therein. It will be interesting to see what quotes Clinton feels have shaped her life, and how she chooses to craft the narrative of her own life around them. No word on whether she'll be including any song lyrics in those quotes, but anyone who supported her campaign wouldn't be shocked if Fight Song popped up again somewhere along the way.
Although the publisher has yet to announce an official title or publication date, it will no doubt be highly publicized this year. Clinton may also do a book tour, as she's done in the past. In the mean time, keep an eye on Amazon, which usually announces when books are available for pre-order.