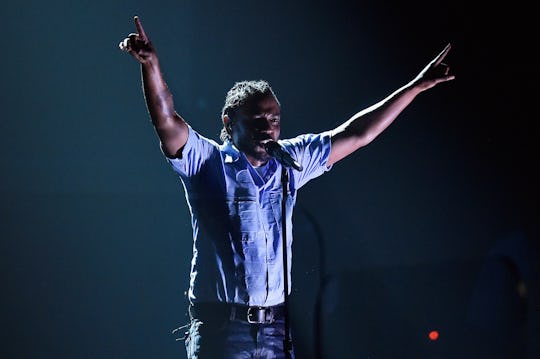 Kevork Djansezian/Getty Images Entertainment/Getty Images
How To Get Kendrick Lamar's New Album 'untitled, unmastered,' Because You'll Want To Hear This Surprise Release
Wouldn't it be nice if all you had to do to get your favorite rapper to release new music is tweet them and ask? The idea might sound ridiculous to most people, but then again, LeBron James is not most people. Like the rest of the world, James was blown away by Lamar's Grammy performance back in February, so he tweeted Lamar and his record label head Anthony Tiffith asking for some more tracks to be released. It turns out that Lamar was actually sitting on plenty of unreleased material ripe for sharing, so a few weeks later Lamar wrote back and basically said, "sure why not, here are eight new tracks." So how can you get Kendrick Lamar's new album, untitled, unmastered? It's available on Spotify, iTunes, Apple Music, Tidal, and Google Play, according to the Independent, and if you're a fan of Kendrick Lamar, you'll want to check it out pretty much immediately.
And, in case there's any doubt about giving credit where credit is due, Tiffith reminded the world that they can thank LeBron James for the release, which pretty much confirms that LeBron James is a superhero. (Maybe we could convince him to tweet at Donald Trump and convince him to drop out of the race for president?)
Technically, though, untitled, unmastered isn't exactly a new album: according to The Verge, the eight tracks on the release were recorded between 2013 and 2014 while Lamar was working on To Pimp A Butterfly, and some of them have been heard before during television performances or concerts. Lamar himself described the new release as a "project" instead of an album, and it's really more like an EP than anything else. Of the songs, he told 2 Dope Boyz:
I got a chamber of material from the album that I was in love where sample clearances or something as simple as a deadline kept it off the album. But I think probably close to ten songs that I'm in love with that I'll still play and still perform that didn't make the cut.
According to the Independent, listeners might recognize "untitled 03" as the song Lamar performed on The Colbert Report, and "untitled 04" from his performance on The Tonight Show Starring Jimmy Fallon.
Nothing like a stealth release of new music to make a Friday morning even better, am I right?