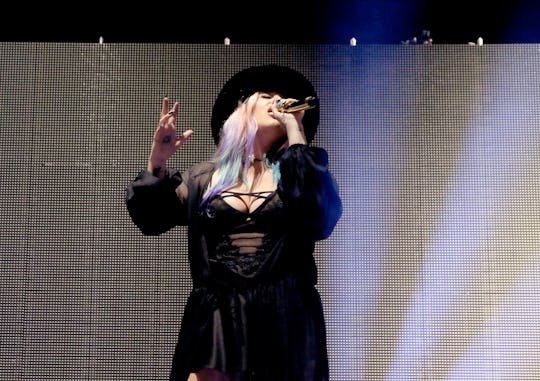 Frazer Harrison/Getty Images Entertainment/Getty Images
How To Get Kesha's "True Colors" Featuring Zedd, Because You Need To Hear This
Kesha wasn't kidding about feeling inspired! After teasing on social media that she was working on new music with EDM producer Zedd, Kesha officially announced their collaboration on Twitter Thursday, according to Entertainment Weekly. Dying to hear it? Here's how to get Kesha's "True Colors" featuring Zedd, because her return to music is a pretty huge deal.
Kesha and Zedd's first collaboration is available to stream on Vevo and Spotify and can also be heard directly from Kesha's Twitter account. The recorded version is a follow up to Kesha's surprise performance of the song during Zedd's set at Coachella, and is an updated version of the song he first released in 2015. But even though it's a re-release, the song seems like the perfect choice for Kesha, with lines like, "All my life, one page at a time/ I'll show you my, my true colors/ No, I won't apologize for the fire in my eyes" (yaaaaas queen).
It's definitely been a tough year for Kesha, who most recently lost her request for an injunction against her record producer, Dr. Luke, after alleging that he sexually abused her. According to Billboard, despite her concern that she'd be trapped in her contract and unable to move ahead with her career (she is still contractually obligated to provide her label with six albums), the judge ruled against her, arguing that she was still free to record without Dr. Luke while fulfilling her contract with Sony.
Even though the legality of the collaboration seemed a little unclear at first (Kesha is still technically associated with Dr. Luke's Kemosabe records as part of her contract with Sony), Zedd wrote on Twitter that the track was made with her label's permission, and that they "didn't use any loop holes" to get the song made — something Dr. Luke thanked him for saying.
According to Rolling Stone, "True Colors" is the first new release from Kesha since 2013's "Timber" — which was actually for Pitbull's album, Meltdown. While it seemed uncertain when — or if — Kesha would head back into the studio to make new music, things started looking up for the singer after Zedd reached out to her over Twitter in February, offering to collaborate. And it seems like a match made in music production heaven, from the sound of Kesha's recent Instagram post. Captioning a shot of herself in the studio, she wrote,
It's a miracle when someone gives you a chance at finding your voice again with no reason other than that he is a fucking beautiful person with a heart of gold @zedd #truecolors
Kesha definitely seems to have found a huge ally in Zedd, and it's totally inspirational to see how their collaboration has also signaled a huge, positive step forward for the singer despite all the heartbreak of the past year. And Kesha certainly seems to be feeling the love, posting a picture of him on Instagram with the all-hashtag caption, "#HERO#truecolors #truecolors #truecolors #living #grateful #zedd #is #the#bestmotherfuckerever #grateful#grateful #grateful"
Amazing new music from Kesha and a totally heartwarming comeback story? It can't get any better than that, can it?