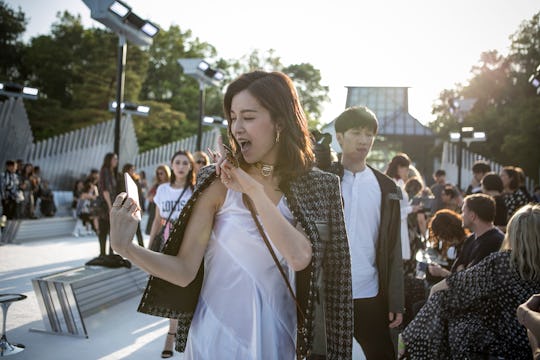 Jean Chung/Getty Images Entertainment/Getty Images
How To Get More Instagram Face Filters If 8 Aren't Enough
We live in a world of rapidly-changing technology, that's nothing new. But sometimes, it's hard to keep track of what app, filter, or acronym is cool at the moment. And as the death of Vine proved, it doesn't take much for an app to become obsolete. Instagram definitely knows that, and it's doing everything in its power to avoid a similar fate. First, the photo-sharing app created its own version of the Snapchat Story. And as of Tuesday, Instagram has released new face filters, which, yes, are also reminiscent of Snapchat's versions. But, there are some differences, which is why you should know how to get more Instagram face filters, because they're about to become the next cool trend.
In a statement this week, Instagram announced that its face filters would be "an easy way to turn an ordinary selfie into something fun and entertaining."
"Whether you're sitting on the couch at home or you're out and about," the company wrote, "you can use face filters to express yourself and have playful conversations with friends." Options include turning your selfie into a cuddly koala, a flower-crowned goddess, or simply enhancing your face with a smoothing feature. The update is already accessible for Instagram users (if not, make sure you manually update the app), and the original eight filters are ready to go.
The current face filters that are available are: a golden, leaf-like crown, a koala face, a peacock/flapper (depending on how you look at it), an ice crown, a blooming butterfly/flower crown, a bunny face, nerd glasses, and the enhanced option that basically improves the appearance of the selfie. To try out the new feature, the company explains,
Simply open the camera and tap the new face icon in the bottom right corner. Tap a filter to try it on, and keep an eye out for ones that work with a friend. Take a photo or video using the front or back-facing camera — they even work with Boomerang, so you can easily add an unexpected twist to what you share! When you're done recording, you can send it to your best friends through Instagram Direct or add it to your story.
Unfortunately, as the new update just launched, Instagram has no additional download packs with more filters. However, the app will be changing the available face filters on a semi-regular basis, in the same way that Snapchat does. And if you're really wanting more variety, you can always use an outside app to add a filter of your own or a pre-made custom filter, and then enhance it in Instagram. In other words, for more official Insta-filters, you'll just have to be patient.
Of course, the face filters aren't the only new features Instagram released today. The ability to use hashtags in your story and the ability to play videos in reverse with a new rewind option are taking Instagram to Snapchat-level sharing abilities. So, get on it and start experimenting with Instagram's new face filters, because you're about to start seeing them all over your feed.