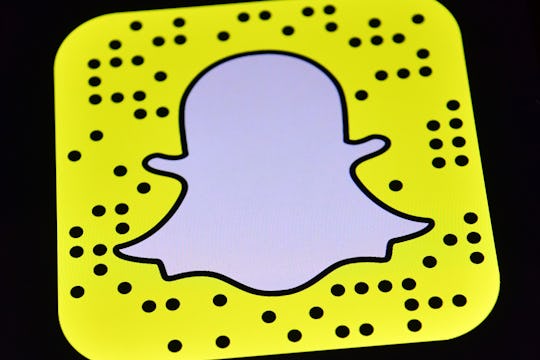 Carl Court/Getty Images News/Getty Images
More World Lenses For Snapchat Could Be Coming To The App Soon
While our cell phones might be small, they house a truly incredible amount of technology and capabilities inside them. They are constantly evolving and being updated, even while they stay the same. And one popular phone app that is constantly changing? Snapchat. The photo-sharing and messaging app has been known for its ever-changing filters and capabilities, with most updates being praised as making communication even more fun. So, after Snapchat rolled out yet another new feature, how can you get more World Lenses for Snapchat's 3D Bitmoji feature? For now, it seems as though it's mainly up to the creative forces behind the app.
In case you're a little behind the times or don't keep up with the youths like others, allow me to explain. Basically, World Lenses are ways to take your already-existing Bitmoji to a new level. Users can see their Bitmoji brought to life in 3D form, whether that be dancing around with a disco ball, or banging on a vending machine. Think of it almost like Lizzie McGuire's little animated self. But you know, newer.
Of course, this new form of augmented reality depends on whether or not you have a Bitmoji and that your Bitmoji is connected with your Snapchat app. If you've done that, then using the new World Lenses feature should be fairly simple.
Make sure that your phone is updated, as well as your Snapchat app, and then, using your rear-facing camera, tap on your screen just like you would to get any other filter. After that, you should see several new filter options at the bottom, which are actually World Lenses. Once you tap on them, you'll see the Bitmoji logo appear on your screen while your Bitmoji loads. After that, it's all fun and games, really.
Seriously, this new Snapchat feature is pretty awesome. And it seems as though the app is planning on rolling out new World Lens options fairly often. As of right now, these are the current options:
A lightbulb, which shows your Bitmoji sitting with a laptop and thinking as a lightbulb goes on over their head
A coffee mug, which shows your Bitmoji getting a pretty big caffeine bolt
A fidget spinner, which shows your Bitmoji playing with, yes, a fidget spinner while sitting at a desk
A vending machine where your mini-me just really wants a snack
A disco ball, where they really start to get down.
So, basically, the only for-sure way to get new World Lenses is just to make sure your phone and app are completely updated, which is also how you can make sure you're getting all the other latest filters as well. Luckily, Snapchat is pretty good about keeping things fresh and new, so it's likely new World Lenses will be available pretty regularly.
However, as more World Lens options become available, it's likely that older, original ones will filter off. For example, one of the first World Lenses featured the Bitmoji rocking out on a skateboard, and that is no longer an option on the app. Of course, it could come back, but there's really no telling what Snapchat will do.
At the end of the day, the new Snapchat World Lenses are a great way to have some fun with the app. You can use them anywhere, and who knows? Maybe one day you'll actually be able to design what your Bitmoji are doing, in a more customizable manner. The world will just have to wait and see.
Watch Romper's new video series, Romper's Doula Diaries:
Check out the entire Romper's Doula Diaries series and other videos on Facebook and the Bustle app across Apple TV, Roku, and Amazon Fire TV.