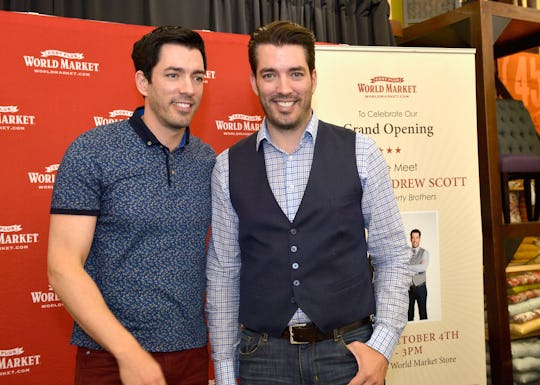 Paul Marotta/Getty Images Entertainment/Getty Images
How To Get On 'Property Brothers'
In 2011, Property Brothers aired on HGTV and the rest is history. Since then, twin brothers Drew and Jonathan Scott (who co-host the show together), have amassed a huge following and risen to fame. The duo now even have spin-off shows and have written two books, but it's the original show that keeps bringing fans back again and again. It's no surprise then that many fans would love to have their turn on the show and wonder how to get on Property Brothers.
Unfortunately, the casting for the next season is very specific. The show is only casting in North York and York Region in Ontario, Canada, according to the official application. To be eligible you must be moving to one of those areas and be buying and renovating a "fixer-upper." Additionally, you must have a minimum renovation and design budget of $100,000 and be available for up to 10 days of filming, spread out over the course of six to seven weeks.
You also have to be at least 21 years old to apply and have a "sidekick" who will appear on camera as well. Obviously if you're a couple, this won't be an issue. But if not, make sure to have a friend or family member ready and willing to appear on the show with you.
You'll also need to include a picture of yourself and your sidekick or family for the application, as well as answer questions about what kind of home you're looking for, how much money you're willing to spend, what kind of neighborhood you're looking for, etc. The questionnaire is a bit in depth, but getting a chance to be on Property Brothers and meet and work with the brothers themselves is certainly worth it. If chosen, the filming and renovating will begin in September 2017.
The site doesn't say what your odds are of being accepted (probably depends on how many end up applying), but it does note that you must already live in the Greater Toronto Area to be considered, which makes sense given that the show does take place in Canada. Those selected will received further information about the show and how it'll all work when the time comes. Besides that, fans just have to fill out the application and hope for the best.
If you'd rather just watch Property Brothers, you can find reruns of old episodes airing pretty frequently on HGTV. Though a premiere date for the next season has yet to be released, you can probably expect the new episodes to air sometime later this fall.