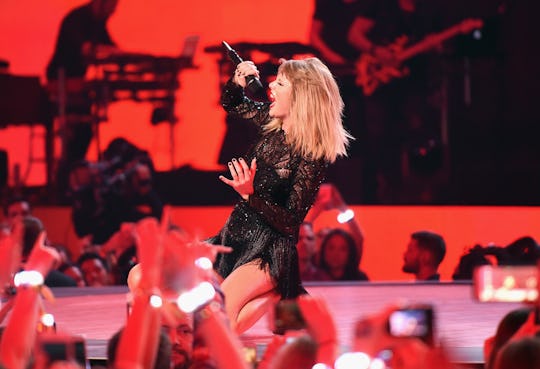 Kevin Winter/Getty Images Entertainment/Getty Images
Here's How To Get Pre-Sale Tickets For Taylor Swift's 'Reputation' Tour
While her new album is still the talk of the town, America's pop princess is also about to go on tour, leading many to wonder how they can attend the big show. So, how can you get pre-sale tickets for Taylor Swift's Reputation tour? It seems as though dedicated fans will get a head start. As anyone who has ever attended — or tried to attend — the concert of a major pop star knows to be true, getting tickets to a concert is truly one of the hardest, and most stressful tasks out there.
Even if you do gain access to a pre-sale, that doesn't always mean that there will be enough tickets for everyone, and there are about a million things that could go wrong in the meantime. While Swift may not be able to make sure that your internet connection is working smoothly, she can try and make sure that tickets to her shows have a higher chance of going to actual fans, not bots or scalpers.
Thus was born the Ticketmaster Verified Fan program, which Swift is partnering with to ensure that her fans are first in line to concert tickets. Officially, tickets for the Reputation tour will be released on Dec. 13, Swift's birthday. However, it's unclear when pre-sale tickets will be released, only that the cutoff for registration is Nov. 28.
So, how can you make sure you'll be the first to know about pre-sale tickets and dates? First things first, register for a Verified Fan account of course! It's actually super easy, and despite all the claims that it's just one giant marketing ploy (which would still be really smart), it isn't just about spending money.
Basically, once you register for your account (which you can do here), there are a variety of ways for you to move up in the metaphorical "line." When you first sign up, you'll see a scale on the left of the page with "wait list" on one side and "priority" on the other. Unsurprisingly, the closer you are to the "priority" side, the bigger chance you have of getting the tickets you want. According to the website, "Your standing may change as more fans join and participate in activities. The line will be updated every 24 hours."
So, how can you get on the "priority" list? Well, there are actually a lot of ways to get there. Of course, you can buy merchandise and albums, but you can also connect your social media accounts, follow Swift on all of your platforms, sign up for an email list, post to social media, refer friends, and watch music videos and behind the scenes footage of Swift.
Of course, getting boosts for all of these activities requires time, and, as indicated on the website, spending money does get users higher boosts. But, if you've already digitally purchased Reputation, you can enter in your purchase code from iTunes onto your account, and you'll be rewarded for it. What's more, if you bought a hard copy of the album, you'll have noticed a slip of paper with the CD with code on it. Enter that code on the website, and you'll receive a boost as well.
Of course, many have lauded Swift's Verified Fan program as being nothing more than an elaborate way to sell more albums, merchandise, and get free publicity. And while that may be what the program results in, Swift is still making sure that her fans get early access to tickets, and that's pretty admirable.
As a proud Swiftie myself, I can tell you that every time I have attended a Taylor Swift concert, I have already known that I was going to purchase a shirt or some sort of merchandise. So, I take no issue in the boosts associated with doing so to get tickets. I would already buy the shirt at the concert, why not buy it now to make sure I get to go to the concert and don't have to pay three times the amount of a ticket to some scalper? Swift's Verified Fan program is doing it's best to let fans get concert tickets, and there's nothing wrong with that. It's smart and helpful, and allows those who really want pre-sale tickets a true shot at getting them.
Check out Romper's new video series, Romper's Doula Diaries:
Watch full episodes of Romper's Doula Diaries on Facebook Watch.