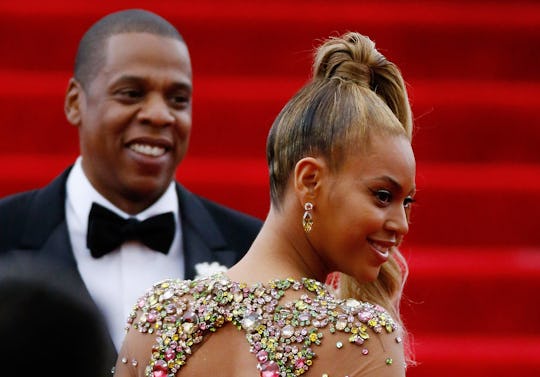 John Lamparski/Getty Images Entertainment/Getty Images
How To Get Presale Tickets For On The Run 2, Because They *Will* Sell Out
U.S. royal couple Beyoncé and JAY-Z are offering fans yet another glimpse into their personal lives, this time with an international stadium tour that will last throughout the summer and into early fall. Ticket sales don't officially begin until next week, but there are a few ways to get presale tickets for On the Run 2, for fans who want to make sure they get the best seats in the house. If you're a hardcore fan of either artist, you're in luck, because members of the Beyhive, Beyoncé's official fan club, can score tickets starting Wednesday, March 14 at 9 a.m. Eastern Time (membership is free). Subscribers of Tidal, JAY-Z's music streaming service, can also get in on the same presale.
If those presales sell out before you get a chance to move on them, there's still one more way to get your tickets early; Citibank credit card members will have access to yet another presale that runs March 14 at noon through March 17 at 5 p.m. EST. And if you missed the boat on all three of those options (or you're waiting for your paycheck to clear), there's still the regular sale, which begins on March 19 for U.S. dates. Most European dates go on sale March 19, as, well, but a few are being held back until March 23, according to Variety.
The tour will kick off on June 6 in Cardiff, U.K, stopping in 15 cities across Europe before the power couple heads stateside. The North American leg starts in Cleveland in July 25, followed by 19 more U.S. concerts, and the final show will be in Vancouver, B.C. on Oct. 2. That's nearly twice as many opportunities to see Beyoncé and JAY-Z perform together than there were during the first On the Run tour back in 2014; that tour featured 19 sold-out performances in the U.S. (grossing $96 million, according to Billboard), capped off by two back-to-back shows in Paris, which were filmed for an HBO special.
At the time of the first On the Run tour, the couple's marriage was plagued with scandal and divorce rumors thanks in part to the infamous elevator fight between JAY-Z and his sister-in-law, Solange Knowles. Eager to prove the tabloids wrong, the couple used their performances and multimedia imagery to present themselves as a Bonnie and Clyde-style team. A review in the Los Angeles Times described the juxtaposition of songs about cheating and family movies featuring the couple's daughter, Blue Ivy, as "a study in how a marriage should work — balancing out each other's weaknesses with individual strengths."
That will no doubt sound familiar to those who watched Beyoncé's 2016 visual album, Lemonade, which shifted gears multiple times between clips of tender home movies and thinly veiled complaints of infidelity. After months of specualtion, JAY-Z admitted in a New York Times interview that he did cheat on his wife, but the couple eventually worked through their issues together, even using their music as a sort of therapy.
The pair's dirty laundry got another airing in December 2017, when JAY-Z released his "Family Feud" video, a sprawling sci-fi short film directed by Ava DuVernay that featured not only Beyoncé and Blue Ivy, but also a who's who of Hollywood, such as Michael B. Jordan, Thandie Newton, Rashida Jones, Constance Wu, Rosario Dawson, Niecy Nash, Janet Mock, Mindy Kaling, and Brie Larson. The overall message of the lyrics and the movie seem to read as an apology to his wife. The original On the Run set list boasted more than 40 songs; one wonders how many it will take this time around in order to prove that the family really is staying together.
Check out Romper's new video series, Romper's Doula Diaries:
Watch full episodes of Romper's Doula Diaries on Facebook Watch.