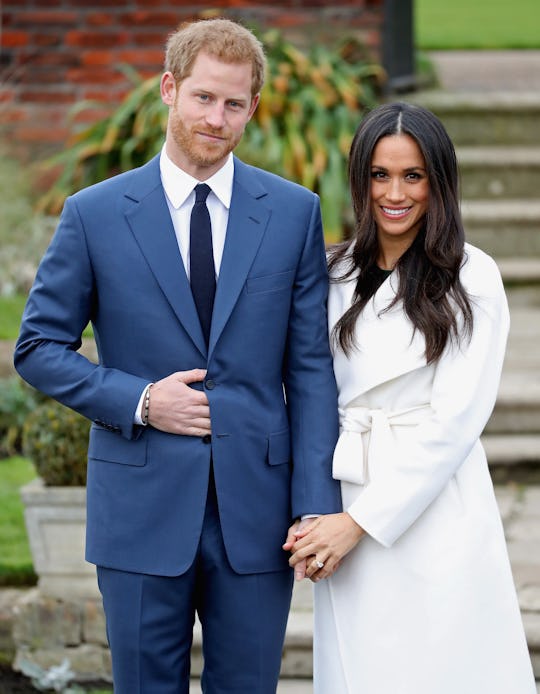 Chris Jackson/Getty Images Entertainment/Getty Images
The Latest Royal Wedding Merchandise Has Been Released & Here's How To Get It
It's officially royal wedding month! While April was all about the birth of the newest royal — Prince Louis — May is all about the upcoming royal nuptials between Prince Harry and Meghan Markle. As the big day approaches, more and more details about the special day have been revealed, like on Tuesday when it was announced that Prince Harry and Meghan Markle's wedding coin is here and has already been designed. And if you're wondering how to grab one for your own collection of royal memorabilia, here's how.
The coin is a commemorative coin made just for the royal wedding and in Britain, it's fairly typical for members of the royal family to receive a special coin to celebrate a special occasion. And the royal wedding between Prince Harry and Markle is no different. According to The Royal Mint's website, the coins are now available, although it's definitely more of a collector's item than a coin to be used for shopping in Britain.
Keep in mind, though, that there are only a limited amount of coins available for purchase. As ABC News reported, only "2,018 coins in sterling silver, 15,000 in silver proof and 850 in a luxurious gold-proof edition" are available right now. Which means that you might want to get on that, like now.
So yes, you can purchase the coin online (for now), but first, you might want to know what all the fuss is about.
The Royal Mint makes both special edition coins as well as British coins for everyday use and releases commemorative coins for extra special occasions in the United Kingdom. For instance, when Prince Harry's brother, Prince William, married Kate Middleton, The Royal Mint also released a special coin. And then, when the happy couple gave birth to their first child, Prince George, a coin was also made. Prince George got another coin on his second birthday, and his younger sister, Princess Charlotte, also got a coin when she was christened, according to The Royal Mint website.
So this royal wedding coin is really just the next in a long line of commemorative coins and The Royal Mint's description of the coin is pretty great, too (even if it does read sort of like a Lifetime movie plot):
Introduced by a mutual friend, love blossomed between His Royal Highness Prince Henry of Wales and American actress Meghan Markle, despite the ocean between them.
Even though Prince Harry and Markle's love story might read a little cheesy, the coin is certainly a sweet keepsake.
So, want a coin? Well, definitely get one if you're interested. As already mentioned, there's only a limited amount available to the public. As far as costs are concerned, they run a little different for each coin. The "brilliant silver" coin will cost you about $17, the silver proof coin runs at $112.27, and the silver piedfort is $210.95. Of course, if you're looking to splurge, the gold proof coin might be the option for you, as it will cost you a whopping $2,694.76. Yes, you read that correctly. Now, the cheapest coin is definitely the more practical option and it would still be a great souvenir.
If you're not convinced, The Royal Mint's continued description of the coin just might urge you to treat yourself to a shiny piece of metal. "Now as the royal couple prepare to tie the knot at St George's Chapel in Windsor," the description reads, "the world gets ready to celebrate a heart-warming modern day fairy-tale. Capture the moment Prince Harry and Meghan say 'I do' with this special commemorative £5 coin."
So maybe you're really itching to get your hands on a coin. Or maybe you could not care less. Either way, the royal wedding coins are here and available for purchase.
Check out Romper's new video series, Bearing The Motherload, where disagreeing parents from different sides of an issue sit down with a mediator and talk about how to support (and not judge) each other's parenting perspectives. New episodes air Mondays on Facebook.