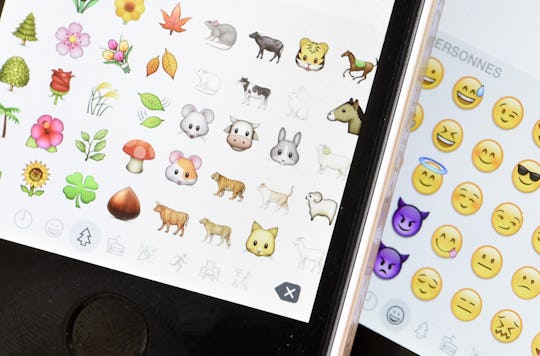 MIGUEL MEDINA/AFP/Getty Images
How To Get The 72 New Emoji On Android, Because Where Has This Avocado Been All This Time?
Avocados, bacon, and rhinos, oh my! Those are just a few of the new emoji released by Unicode Consortium on Tuesday. The emoji are planned to be available on the most commonly used smart phones, but emoji enthusiasts will probably need to wait until the fall when companies like Apple and Android release their emoji updates. You might be wondering how to get the 72 new emoji on Android devices so you can finally express yourself more accurately with a facepalm or a shrug.
The new emoji should simply appear on Android devices, as well as other smartphones, after Android updates its software to support the new texting images. According to the Unicode 9.0 update, the new faces, hand gestures, gender pairings, animals, food, drinks, and sports are all covered in this update.
As for Android users updating their emoji settings on their Android devices, the steps are a bit more complicated than for Apple devices, but are still fairly simple.
But before anything else, Android users will need to check to see if their phones can read and write emoji. They can do this by going to a website on their mobile device, like this one, to see if they can actually see the characters. If users can see a kitty with heart eyes or the standard smiley face, everything should be fine for them to add the new 72 emoji to their keyboard. If a user's phone is Android 4.1 or higher, the emoji add-on software will already be installed.
After users have found that their Android device is ready to go, they can follow these steps to get the new 72 emoji on their phone after the company updates its own software.
Open your "Settings" menu and select "Language & Input"
You will then see "Keyboard & Input Methods" and select "Google Keyboard"
Select "Advance" and turn on the "Emoji for physical keyboard" option
According to technology news website Digital Trends, if a user's Android device does not support emoji, there is another option they can try. "You'd have to search for a tool or setting that enables emoji on the Google Play Store," according to an article by Digital Trends. "Third-party keyboards like SwiftKey, Swype, and Fleksy fully support emoji when typing and sending messages. SMS Rage Faces also offers funny faces and stickers that you can send to friends and family."
The not-so-good news is the process to add the new 72 emoji to your Android device's keyboard might take a bit more time than for Apple products. But, the great news is that it will be possible. As emoji lovers wait for Apple and Android to approve and make the updates, there will be plenty of time to practice, play, and tinker with their phones to make sure they can immediately and finally send a text with a pancake drizzled in syrup.