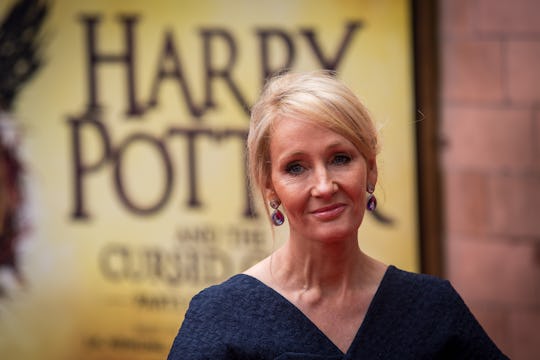 Rob Stothard/Getty Images Entertainment/Getty Images
How To Get The Harry Potter Facebook Status Update
It's a big day for Harry Potter fans: 20 years ago today, the first book in the series was released. Harry Potter and the Philosopher's Stone (aka Harry Potter and the Sorcerer's Stone in the United States) quickly became a huge hit with both kids and adults, and launched an unshakable fandom that continues to be as devoted as ever. So in an effort to give credit where credit is due, Facebook has opted to celebrate this super important anniversary with a little social media magic. Wondering how to get the Harry Potter Facebook status update? You're going to want to check this out.
According to Mashable, any Facebook user posting about Harry Potter today will be in for a nice surprise: the social media giant introduced a special easter egg Monday that automatically adds a magic wand animation to any update that includes certain Harry Potter-related keywords. Want to give it a try? All you have to do is post a Facebook status to your timeline that includes the words "Harry Potter" and/or any of the names of the Hogwarts houses (Slytherin, Hufflepuff, Gryffindor, or Ravenclaw). Not only will the names be displayed according to their associated house colors, but clicking on the names will activate the magic wand wizardry.
Facebook isn't the only platform getting in on the celebration though. According to The Telegraph, Twitter has introduced an HP-themed emoji to accompany the hashtag #HarryPotter20, and anyone with an Android phone can use certain Harry Potter spells to activate certain features using Google Assistant ("Lumos" will turn on the phone's flashlight, while "Silencio" will set the phone to silent mode).
It's hard to believe that it's already been two decades since the book's release — and even harder to believe that, at the time of it's initial run, no one really anticipated that Harry Potter would go on to become a complete cultural phenomenon. But according to BBC News, the first hardcover printing of Harry Potter and the Philosopher's Stone by Bloomsbury included only 500 copies, and that was after countless rejections from other publishers. So it's definitely an understatement to say the books have done well: in total, the Harry Potter books have sold over 450 million copies worldwide, and have been translated into 68 different languages, according to Scholastic.
Of course, the popularity of Harry Potter also launched author J.K. Rowling into the stratosphere, from a struggling single mom in the early '90s who worked on her children's book manuscript while her baby napped, to someone so successful that, in 2003, she literally surpassed Queen Elizabeth II on the Sunday Times of London's annual list of the wealthiest people in Britain, according to People.
But the significance of Rowling's creation hasn't just been about book sales or the resulting movie franchise and theme park rides. In honor of the 20th anniversary, many fans have shared that Harry Potter had a huge personal effect on their lives, inspiring in them a love a reading — or, in the case of CNET writer and editor Patricia Puentes, even helping them learn English. In a tribute to Rowling, Puentes — who now literally writes for a living — wrote that Harry Potter and the Philosopher's Stone "was the first unabridged book [she] read in English," and credited it for helping her learn the language and its associated grammar rules.
Granted, Facebook's Harry Potter status animation is just a fun little novelty feature, but given the impact that the book series has had on so many people's lives, it's likely that the anniversary of the first Harry Potter book really does mean a lot to fans. And, as is so often the case, there really couldn't possibly be a better way to celebrate that than with an unexpected animated gif.