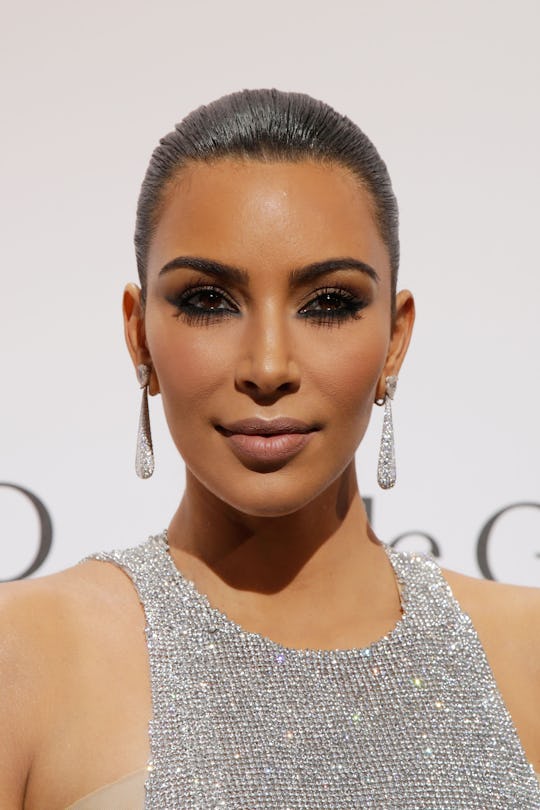 JEAN CHRISTOPHE MAGNENET/AFP/Getty Images
How To Get The Kimoji Summer Update, Because It's The Best One Yet
Oh, Kimoji — the one app we had no idea we actually needed in our lives until it existed. Kim Kardashian may have changed the texting game when she first introduced her Kardashian-themed emoji app, but her latest batch of images just took things to a whole new level. Wondering how to get the Kimoji summer update? If you've already downloaded Kimoji for your iPhone or Android and it's set to update automatically, then you might already have it (if not, running a manual update should do the trick). And if you haven't downloaded Kimoji yet, well what are you waiting for? This version has a laughing Kanye Kimoji and a bunch of shade-throwing North Kimoji, according to USA Today, which, I mean, what more could you possibly want?
Kardashian teased the latest update on her Instagram account Tuesday with two truly incredible North and Kanye Kimoji collages, and then followed up on that brilliance with — what else? — a gif collage featuring a variety of twerking Kim Kimoji (naturally). Even momager Kris Jenner got in on the action, posting perhaps the best Kimoji in all the land, a hilarious collage featuring a Kimoji of Kim's stunned/nervous face. (She also captioned it #mynewscreensaver, and I'm pretty sure it's going to be mine too.)
The addition of Kanye and North Kimoji is a big deal, because, let's face it, Kimye is basically entertainment royalty, with little North as the heir to their throne. And honestly, her totally on-point side eye is the perfect way to respond to any annoying text message or situation that is thrown your way.
Case in point:
Or perhaps a little Kanye "IDGAF" West is more your speed:
There's even one for when you're feeling your look in your designer Balmain military jacket even though you're still learning how to pee on the potty:
And little sis Kylie got her own brand-new Kimoji as part of the update, too (it's almost as good at Kim's crazy face):
Khloe might not be graced with a new Kimoji this time around, but she was still sure to give the update a shout-out:
And Kourtney was clearly thinking the same thing:
Yep, pretty sure I need more Kimoji in my life.
Although, seriously, this twerking Kim collage is kind of creepy.
The Kimoji app can be purchased from iTunes and Google Play for $1.99.