If you haven't already started seeing new emojis pop up in your text messages, get ready for some fresh, expressive fun: Android has rolled out a line of new emojis in its latest software update, and it includes a whole range of more gender-equal emojis. (In other words, get ready to finally see some cartoon women do more than just get haircuts or dance around in bunny ears.) In case you haven't gotten a hold of them yet, here's how to get the new emojis on Android.
Starting Dec. 5, Google began rolling out software update 7.1.1 for Nougat, and it's now available for several Nexus and Pixel phones, with other models likely receiving the update in the next few weeks. In order to get the new emojis on Android, you'll definitely need that software update.
If you have a Nexus 6, Nexus 5X, Nexus 6P, Nexus 9, Pixel, Pixel XL, Nexus Player, Pixel C and General Mobile 4G (Android One), you should get an over-the-air, wireless update that prompts you to download and install the new update. (I have a Nexus 5X, and my phone magically prompted me to upgrade to 7.1.1 yesterday, a process that took all of two easy screen clicks. Boom, emojis unlocked.)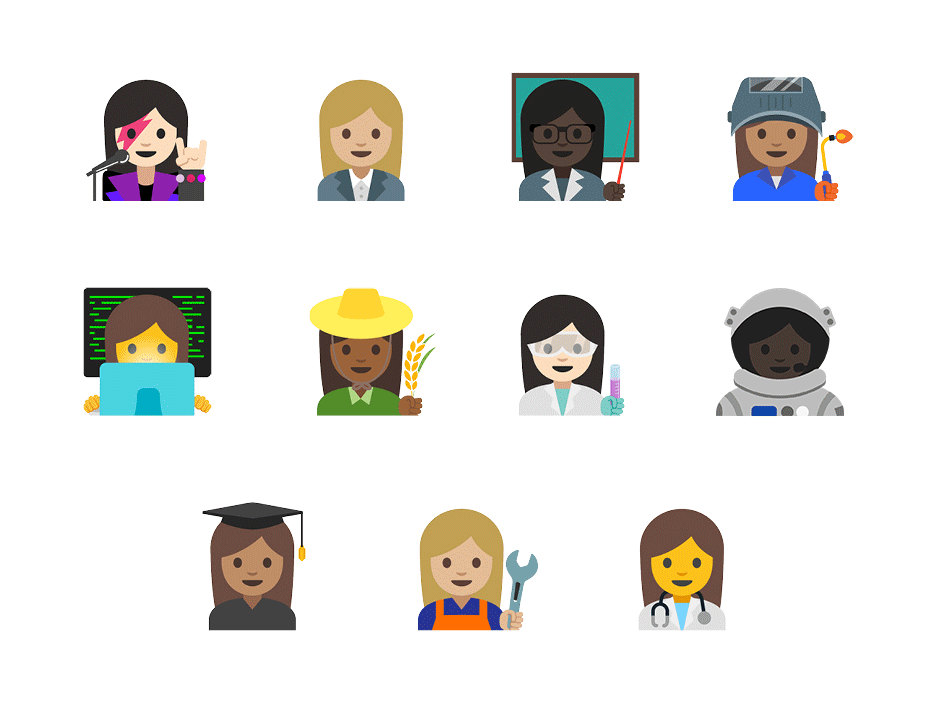 If your phone isn't included in the above list, don't worry! Pocket-lint has an excellent list of different phone manufacturer's typical software update times, so you can know when to expect the update if you have a Blackberry, Huawei, HTC, LG, Motorola, Samsung, or Sony. You may just have to wait a little longer, depending on when your manufacturer rolls out the update.
But what if you're a bit impatient and want to get that update stat? (I mean, I don't blame you — Android's new Bowie-inspired emoji is pretty sweet.) Luckily, you can also speed up the process by opting into the Android Beta Program, which will let you download the new update right away. Just head over to the Android Beta Program page, log into your Google account, and select your phone as the eligible device to use. (If your phone is too old to receive any Android updates at all, you may be out of luck. As someone who has previously owned a dinosaur phone, I feel your pain.)
If you're decent at using a command line and comfortable using tech-y tools, you can also try a number of different reboots and work-arounds in order to get Nougat 7.1.1 a little quicker. Android Central has some pretty straightforward instructions on a number of different ways to do so — but waiting for your phone's software update or enrolling in the Android Beta Program is likely your best (and safest) bet.
Once you've got Nougat 7.1.1 downloaded, you're good to go. Open up your regular emoji keyboard and you'll find all of its newest, sassiest characters locked and loaded. Happy typing! (Insert fantastic Bowie emoji here.)