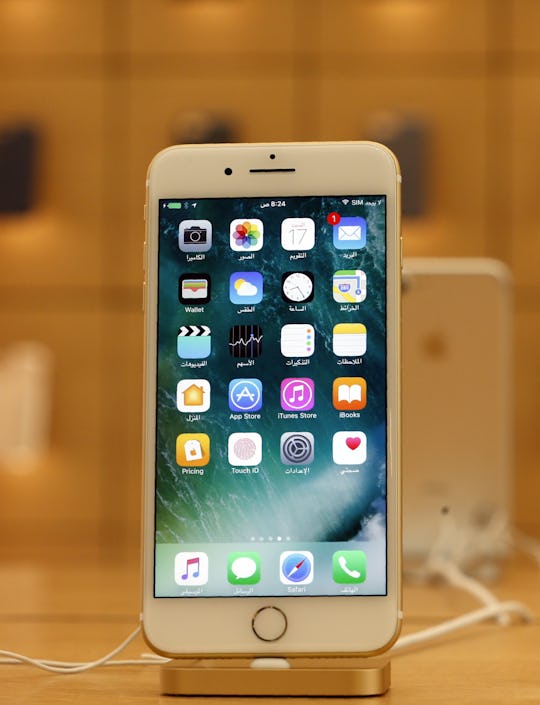 KARIM SAHIB/AFP/Getty Images
How To Get The New Emojis On Your iPhone, Because Pregnant Ladies Finally Get Their Own
Apple has released its new iOS 10 operating system and the update has given messaging a whole new makeover. The update brings hundreds of new emoji options to iPhones and iPads and even a new tap-and-replace feature that lets you swap out boring text for emoji while you're messaging. Here's how to get the new emoji on your iPhone.
The update officially lauched on Monday, according to TIME and the new emoji are intended to keep up with the wave of more inclusive emoji being released by other tech companies like Facebook and Google. The new Apple emojis include avocados and bacon, and the people emoji include more diverse faces like women scientists and firefighters and even a pregnant lady. Thumbs up to that.
Here's how to get the new emoji on your iPhone, according to TIME.
1. First back up your phone by going to "Settings > iCloud > Backup"
2. Once you've backed up your phone, go to "Settings"
3. Select "General"
4. Select "Software Update"
5. Double-check you're connected to Wi-Fi to avoid big data charges
6. Download and install new iOS 10 update
Once you've updated to the new software you'll see all kinds of new functions in Messaging, including a tool that predicts what might be the best emoji for your message and a "Tap and Replace" feature that lets you instantly drop in bigger, re-designed emoji for your messaging pleasure, according to Apple.
9 to 5 Mac also reported that, not only is the new Messages app displayed in full screen after the update, but a bug that prevented you from the seeing the keyboard in Messages on occasion has also been fixed.
According to 9 to 5 Mac, the update will also improve the TV watching experience on the iPhone and iPad with recommendations and instant access to your iTunes library, and an option to stop a show and pick it up later at the same spot. Other updates included in the new software are an improved Photos app and FaceTime and Bluetooth connectivity with third parties, 9 to 5 Mac reported.
But it's the new emoji that are getting everyone's attention. After installing the update, iPhone users will get access to new emoji including a Pinocchio nose emoji face to gently point out fibs, and a crossed finger emoji to bring a little good luck whenever you need it.
Amojipedia has a full list of the new emoji available on the new iOS 10 update. Crying cat emoji? Covered. Facepalm? According to Emojipedia, there are now 18 versions. Check out all of the options, download the new software, and start "emojifying" your everyday conversations. That's a real word, right?